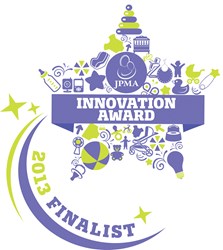 Milford, CT (PRWEB) October 04, 2013
Gentle music under a twinkling night sky is bound to put any baby to sleep, but it also made judges take notice. A panel of media and industry buyers recently recognized the Lullaby Light Cube as one of the most innovative baby and children's products of 2013. SCS Direct, a first time exhibitor at the ABC Kids Expo, plans to take the baby and kids industry by storm with the introduction of Lullaby Light Cube and Sprout Cups and the reintroduction of the FlyeBaby.
"It's been quite a year for our baby and children's products which include Lullaby Light Cube, FlyeBaby, Sprout Cups and more," shared Howard Greenspan, owner of SCS Direct and creative "fun guy" behind all of the SCS Direct brands.
"The ABC Kids Expo promises to help us reach the key retail distribution partners that are a perfect fit for each of our products."
The following products will be on display in Booth #443 at the ABC Kids Expo:
Lullaby Light Cube – Travel Infant Soother
2013 Tillywig Brain Child Award
2013 BabyMaternity Product of the Year Award
FlyeBaby – Infant Airplane Travel Seat
2013 PTPA Seal of Approval
2013 BabyMaternity Top Choice of the Year Award
Sprout Cups – Babyfood Storage System
2013 BabyMaternity Seal of Excellence Award
As a finalist in the JPMA Innovation Awards, Lullaby Light Cube is currently being showcased at http://jpma.org/content/parents/parents-pick-award as part of the 2013 Parent's Pick Award. It will also be displayed in the Innovation Awards Exhibit on the show floor during the ABC Kids Expo. Winners will be announced on October 15th, 2013 at a live event and through social media channels
All of SCS Direct Inc.'s award-winning products can be found in Booth #443 throughout the ABC Kids Expo October 15 – 18 at the Las Vegas Convention Center in Las Vegas, NV. Contact SCS Direct at info(at)scsdirectinc(dot)com or via social media channels using #scsdirect.
About Us
SCS Direct was founded in 1998 to develop innovative products for consumers in the United States and Internationally. The SCS team focuses on finding little-known products and ideas; continually tweaking and improving them until they are marketable. Current products include various toys, housewares, electronics, outdoor living and infant care items. SCS Direct is ranked #296 on the 2012 Inc. 500 List of America's Fastest Growing Companies. SCS Direct Inc. acquired Camerons Products in 2013, increasing the product line and growth opportunities in the retail market. For more information about SCS Direct's unique line of products call 203.870.4867 or visit http://www.scsdirectinc.com.