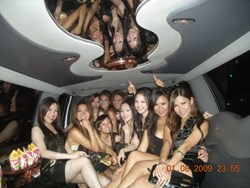 The birthday services offered by the company guarantee to make the birthday all the more special.
Vancouver, BC (PRWEB) October 04, 2013
With social status becoming increasingly prominent these days, the demand for limousine services has witnessed a significant increase over the past years. From business events to weddings, the demand for limos has experienced a growth. Heading out in a fancy vehicle not only adds class, but also helps create a more elegant image in the minds of others.
Limousine services have generally been aimed more towards the professional sector. However, the recent increase in demand for limousine services in Vancouver amongst teenagers has indicated that there is a new niche to be catered to and Royal Limo has done specifically that.
Royal Limo – Aiming to Make Birthdays Memorable
A company renowned for ensuring total satisfaction for clients, Royal Limo, a limousine company in Vancouver, takes great pride in providing its customers with the best services. Thus, with its newly introduced birthday services, the reputable company is no different. The birthday services offered by the company guarantee to make the birthday all the more special. The services, depending on the number of people the host wishes to bring along, involve a stretched limousine or a bus and both are packed with all the modern amenities one could think of.
The limos offered by the company are well equipped with a mini bar and a wide variety of drinks. Furthermore, in view of the company's priority towards the safety of the clients, all the drivers are professionally trained experts and carry several years of driving experience. To make the birthdays unforgettable, Royal Limo also prides itself in introducing the birthday packages at the most economical and competitive rates.
About the company:
Serving the community of Vancouver, Royal Limo is a leading provider of limousine services. The company is known for maintaining high standards of quality in comfort and luxury and proudly boasts hundreds of satisfied customers. With its wide range of luxurious vehicles and professionally trained drivers, Royal Limo is sure to satisfy all limousine rental needs. For additional information regarding the limo services offered, kindly visit http://www.royallimo.ca. Quotes can also be directly obtained at http://www.royallimo.ca/rates-vancouver-limousines/.