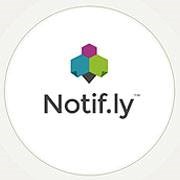 Los Angeles, CA (PRWEB) October 03, 2013
Notifly is a new software-as-a-service platform that relies on sending text messages to remind clients about their appointments. The innovative new web app may provide the solution many tattoo businesses have been looking for, in terms of increasing profits by minimizing or eliminating missed appointments or "no-shows."
Using Notifly enables tattoo businesses to send text messages to remind clients of appointments, rather than having to make phone calls, or simply hoping that clients will remember to show up at the appointed time for their appointment.
"There are any number of factors that go into running a successful tattoo shop," explains Notifly CEO, Joshua Otten. "Like the restaurant business, location is a big factor. You also need to employ top talent and of course, to market yourself properly. But even once you've got all those elements in place, you still need to make sure your clients actually turn up for their scheduled appointments."
For the average tattoo shop/artist, hourly rates may typically range from anywhere between $120 to $200. For some well-known tattoo artists in major markets like New York City, hourly rates may even be as high as $350.
With most tattoos taking somewhere between one to three hours to complete, even one missed appointment can potentially result in anywhere from $120 to $600 in lost income. That means that just two to three no-shows a week can potentially add up to in the neighborhood of $2,000 in lost income.
Traditionally, many businesses have relied on making phone calls to remind clients about their appointments. But making such calls takes time and energy. And many in the tattoo business are essentially one-man shows, handling all their own booking, client management, marketing, and of course actually administering the work to the clients. Setting time aside to make reminder calls is just not that feasible for many tattoo professionals.
"These days people are busier than ever and many are simply unavailable to take phone calls during the day," adds Otten. "Also, depending on where you work, you may not exactly be thrilled to get a call from a tattoo shop during business hours."
Part of the thinking behind Notifly, is that while many people are unavailable to answer phone calls during the course of the day, up to 90% of all text messages are read and responded to.
And because Notifly makes it possible for clients to respond instantly, it's also much easier for tattoo businesses to fill in timeslots when cancellations do occur.
Some tattoo shop owners are already finding great success by using Notifly to text their clients. The platform is simple and easy-to-use and for businesses feeling the impact of missed appointments, Notifly may offer the solution. Many tattoo shops and other businesses across the country have already discovered a dramatic jump in revenue through using Notifly to minimize or eliminate no-shows. And because Notifly offers a free trial, it's possible to give the service a try without incurring any risk.
About Notifly
Notifly is an innovative new web app and appointment reminder tool. It was designed to help businesses – across a variety of industries – ensure that clients, patients, and other patrons don't miss their scheduled appointments. Notifly automates the appointment reminder process, enabling businesses to increase their revenue by decreasing their rate of no-shows. Notifly is an affordably priced SaaS platform that empowers businesses to dramatically increase arrival and attendance rates among their respective customers.
For more information about Notifly, please visit https://notif.ly/.
###