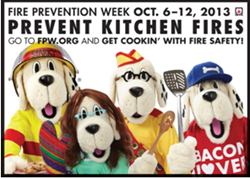 Peter Thorpe, the founder of Fire Avert and an actively serving fire fighter, says, "Every week I either respond to or hear about a family having a kitchen fire. These fires all could have been averted if only they had the Fire Avert installed."
Salt Lake City, UT (PRWEB) October 08, 2013
Fire Avert joins rest of the country in celebrating fire prevention week by announcing a 50% off sale. Fire prevention week this year begins on October 6th and runs through October 12th. The week stands as a time when emphasis is laid upon teaching people how to prevent kitchen fires from ever starting.
The theme for this year's fire prevention week is "prevent kitchen fires" and concentrates on ways in which kitchen fires can be prevented from ever starting. The theme is based on past research indicating that the kitchen is the vital place in the house where most fires start as compared to other parts of the home.
Fire prevention week commemorates the great Chicago Fire of 1871. The week is used in educating people of all age groups on their responsibilities in keeping safety standards and preventing fires from occurring.
Fire Avert has contributed to this theme by providing priceless information through their website on the top 5 ways in which kitchen fire can be prevented. The week is a special time for specialists such as Fire Avert to spread the word that kitchen fires can be avoided. Also, in support of the fire prevention week, Fire Avert is offering 50% off its online sales price. The offer will last up until the end of fire prevention week.
Fire Avert is a company that has quickly stamped its presence in the corporate world. The company has experienced rapid growth and has in the recent times hired Jim Kelly as their first full time sales representative. Jim Kelly Joins Fire Avert, bringing with him over 20 years of sales experience.
Fire Avert products are currently selling online and in selected retail stores. These products play an extremely important role in fire prevention. As statistics indicate, 13,000 kitchen fires started in the month of September alone. Most of these fires were as a result of unattended cooking, a situation that Fire Avert could have prevented by turning off a stove that might have been forgotten about.
Even as fire prevention week is celebrated, Peter Thorpe, the founder of Fire Avert and an actively serving firefighter, is lauded for his contribution in fire prevention. More to this, Peter Thorpe has honored fire prevention week through his words by stating that, "When I heard that this year's fire prevention week's theme was 'Prevent Kitchen Fires', I wanted to get involved and help educate the public. As a firefighter, I have seen my share of kitchen fires. Every week I either respond to or hear about a family having a kitchen fire. All these fires could have been averted if only there was a Fire Avert installed. To help with fire prevention week, we are offering the Fire Avert for 50% off our online retail price."
For more information on Fire Avert, visit http://www.FireAvert.com.