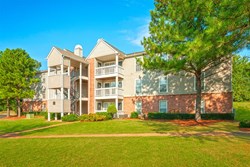 Philadelphia, PA (PRWEB) October 04, 2013
PRG Real Estate, a leading multifamily real estate investment and management firm, announced today the acquisition of Church Lake Apartments, located in Southaven, Mississippi, a robust middle class suburb of Memphis, Tennessee.
Church Lake is a 352-unit garden-style apartment community located in the growing and supply constrained submarket of DeSoto County, minutes from the world headquarters of major logistics companies such as FedEx. Built in 1997, Church Lake boasts luxury amenities, energy saving features in all apartment homes, and scenic views of a 2-acre lake.
PRG's Chief Operating Officer Sam Foster states, "The purchase of Church Lake marks PRG's second acquisition in as many months. Our business plan will be to take advantage of robust demographics and a growing population while introducing further operating efficiencies at the already stable and cash flowing property. In addition, the acquisition permits further expansion in the Memphis submarket itself while providing a gateway for PRG to move into the central part of the United States during 2014."
About PRG Real Estate:
Founded in 1985 by Steven Berger and Jon Goodman, PRG Real Estate is a Philadelphia based real estate firm that acquires and manages quality apartment communities throughout the eastern half of the United States. Since its founding PRG has acquired well over 50 communities and 13,000 apartment units. PRG also has been designated as an Accredited Management Organization by the Institute of Real Estate Management (IREM) and also holds membership in the National Apartment Association (NAA) as well as the National Multifamily Housing Council (NMHC). For more information please visit http://www.prgrealestate.com