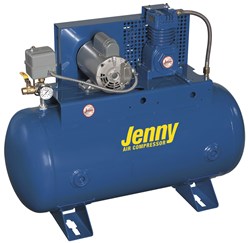 Jenny offers 12-models of fire sprinkler air compressors, each available in base-plate-mounted and tank-mounted configurations.
Somerset, Pennsylvania (PRWEB) October 04, 2013
Jenny Products, Inc. offers a complete line of fire sprinkler stationary compressors. Designed to load sprinkler lines with compressed air rather than water, the compressors prevent rust issues and frozen pipes, providing for a durable safety system.
Jenny offers 12 models each in base-plate-mounted and tank-mounted configurations. The smallest unit will accommodate a system requiring 220 gallons of air compressed within 30 minutes, while the largest unit will compress 2,115 gallons within that half-hour window. An industrial/commercial grade UL-listed electric motor in one- or three-phase power runs each compressor, and thermal overload protection prevents the motor from overheating. Horsepower output ranges from 1/3 to 5, and the systems deliver between 2.9 cfm and 26 cfm at 40 psi.
All Jenny fire sprinkler compressors are made in the United States and built to last. Each unit comes with a heavy-duty cast iron compressor pump and is belt-driven with an extra large flywheel for extra cooling and easier startup. A directional air shroud further reduces pump temperatures. The large canister intake filter comes with replaceable filter elements. Each unit is splash lubricated with Jenny "Ultimate Blue" Compressor Pump Oil to ensure the pistons, bearings, crankshaft, rings and cylinders are protected.
Each unit's quality extends beyond how it is built to how it operates. By providing for a dry pipe sprinkler system, air compressors greatly reduce the chance of a pipe freezing in cold weather. Rather, the system lines are filled with air maintained at a compression of 40 psi. Heat activates a sprinkler in the immediate area of a fire by causing the glass to shatter or solder to melt. This causes an immediate pressure drop within the system and the air quickly expunges from the line, followed by the water, to suppress a fire. Only sprinklers in the immediate area are activated, preventing unnecessary water damage.
Jenny's base-plate-mounted fire sprinkler units include a powder-coated, extra heavy steel base plate, while the tank-mounted units include a powder-coated ASME certified tank for durability. Additional quality standard features on the tank-mounted compressors include manual tank drains, protectively mounted fittings, special unloading valves to assist in motor starting, a tank gauge and a pressure-relief safety valve. A standard automatic start/stop control on the tank-mounted compressors has a pressure unloader set at 25 to 40 psi. The control closes a switch and starts the compressor whenever pressure levels drop. When the appropriate level is again reached, the compressor stops and the unloader valve expels any air between the check valve and compressor.
Optional features for the tank-mounted models allow further customization for specific situations. An optional aftercooler will cool hot, compressed air laden with water vapor, condensing it to a liquid so that it can be removed from the system. Additionally, a dryer will be beneficial when dealing with water condensation.
With roots dating back to the 1870s, Jenny Products, Inc. has been an OEM manufacturer for several major manufacturers of air compressors. Today, Jenny manufactures and markets its own line of hand-carry, wheeled-portable and industrial-stationary air compressors. For more information on its line of equipment, contact Jenny Products, Inc., 850 North Pleasant Avenue, Somerset, PA 15501-1069, call 814-445-3400, fax 814-445-2280 or visit the website at http://www.jennyproductsinc.com.