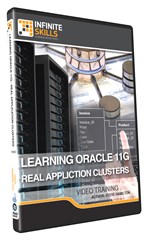 Learn Oracle 11g - Real Application Clusters at your own speed.
(PRWEB) October 05, 2013
Software training firm Infinite Skills Inc. this week introduced its "Learning Oracle 11g - Real Application Clusters Tutorial," a course focused on Oracle's capabilities for creating high-availability areas within a database using disk drive clustering.
The Oracle RAC system is technology within Oracle's database software that allows multiple databases to share a common set of hard drives. The RAC system allows database managers to establish high availability areas, automatic failover between database nodes, and increased throughput capability for individual nodes, in general increasing the efficiency and reliability of high-demand databases.
Infinite Skills Learning Oracle 11g - Real Application Clusters teaches all the concepts and techniques for utilizing the RAC system to improve an Oracle database.
Learning Oracle 11g - Real Application Clusters Tutorial - DVD
Course author Steve Hamilton is a database management specialist with 20 years' experience working with Oracle, Sysbase, and SQL Server. He has consulted for a number of Fortune 500 companies including TD Ameritrade and ConAgra. He currently runs a consulting company, Database by Design, and trains both locally and internationally.
The course begins by explaining RAC, looking at the basic requirements for its implementation, and the various installations and definitions involved in initiating a RAC database.
Once the database is installed, Hamilton shows how to create the cluster database with disk groups, create the RAC Listener, and identify and control RAC components.
The course continues with chapters on tuning RAC performance, configuring application transaction application failover, and performing diagnostics to identify and correct RAC problems.
"This course is focused on learning to provide high availability for mission-critical database apps," Hamilton explains. "RAC is designed so that databases have high-availability with little or no downtime."
Free demo videos and a full list of course contents can be found on the Learning Oracle 11g - Real Application Clusters training page of the InfiniteSkills website:
http://www.infiniteskills.com/training/learning-oracle-11g-real-application-clusters.html
InfiniteSkills offers its Learning Oracle 11g - Real Application Clusters Tutorial either as a DVD or a direct download from the company website at a retail price of $99.95. Though the compatibility of programs varies, all InfiniteSkills titles and formats are compatible with both Mac and Windows operating systems, and shipping is available around the globe. Additionally, InfiniteSkills tutorials are supported by project files which correspond to examples in the videos.
About Infinite Skills Inc.
A leader in the field of software training, Infinite Skills designs its courses on a task-oriented model, teaching complex skills by providing hands-on examples and guiding users as they carry out essential functions. Infinite Skills offers a wide range of software titles available as DVDs, digital downloads, and in iPad editions. Infinite Skills now offers a subscription service, providing access to all its training content for a monthly fee, keeping with company's aim of delivering professional training to customers anywhere they want to learn.