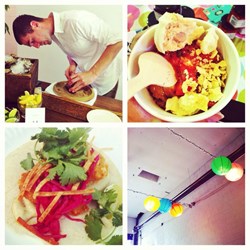 Their expertise in organizing dinner parties, appetizer parties and even barbeque parties is unmatchable.
Vancouver, BC (PRWEB) October 06, 2013
NFA Caterers have recently launched a new initiative to help clients out with inventive and ingenious party catering ideas in order to enhance the company's customer care services. The initiative is aimed at making catering and parties easier and more fun for clients. No Fixed Address Caterers, based in Vancouver, Canada, is ever-ready to serve any party at any venue with the tantalizing and alluring dishes that are so expertly produced. Making at-home parties cooler than ever, NFA adds a distinct charm by serving food that is sure to please the taste buds of every guest.
NFA for Every Occasion
With a variety of cuisines on their menu, NFA Caterers cook for special occasions with the client's personal preference and taste in mind. They provide a wide range of dishes to choose from, including Moroccan, Asian and Mediterranean cuisines. They know the importance of food in a party and understand the significant role it plays in making the party a success. Be it any event, a house warming party, a celebratory graduation dinner or a simple after-exam hang out, NFA Caterers is only a phone call away.
Their expertise in organizing dinner parties, appetizer parties and even barbeque parties is unmatchable. With a careful and perfect amalgamation of quality and taste, their food sets them apart in the catering world. With their breathtaking taste and presentation, NFA's clients stand apart in the eyes of the guests.
The Art of Great Parties
Everybody loves praise, more so, if it follows a successfully thrown party. Perhaps an even better feeling is to see the guests eat wholeheartedly, with a desire for more and a satisfaction that only delicious and tempting food can provide. Despite there being music, dance and other audio-visual activities, the position of great food in any party can never be compromised. With NFA and its innovative party-catering ideas, a usual get together will become exemplary in all aspects, including food.
To get in touch with No Fixed Address Caterers, visit the website http://nofixedaddresscatering.com/. More information on their menu is also available. Details about the chef and testimonials from previous clients are also featured on the webpage. Prospective clients can log on to http://nofixedaddresscatering.com/ or call NFA at 778 847 3853.