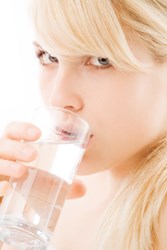 More than 49 million American's are drinking arsenic in their tap water!
Natick, Massachusetts (PRWEB) October 08, 2013
Purdex announces the release of a research paper showing that more than 49 million Americans are drinking water containing varying levels of arsenic. This paper titled, Arsenic in the Nation's Tap Water, is the first in a series of research papers geared toward tap water contamination and is based on actual drinking water test data gathered from more than 50,000 public water systems. Arsenic is a known carcinogen and is more prevalent in drinking water than most people realize.
"Our research shows that more than 49 million – or 1 in 6 – people are exposed to levels of arsenic that may cause cancer over time", explains Michael Keegan, co-founder of Purdex. "For the first time, we can pinpoint the areas of the country that have the highest levels of arsenic in drinking water and highlight potential contributing factors such as manufacturing, mining, agriculture, drought conditions, etc., that may be impacting arsenic levels in these regions."
The study shows that the top ten states having the highest levels of arsenic in drinking water are (ranked in order of severity): Idaho, California, Nevada, Texas, Alaska, New Mexico, Louisiana, Washington, Arizona, New York. In particular, Texas and California had the highest total number of arsenic health violations from 2008-2012 at 1,987 and 1,414, respectively. While in Arizona, 60% of all drinking water health violations were for arsenic alone.
The report also discusses the differences between arsenic types, the correlation between higher arsenic levels and smaller water systems, differing arsenic levels in ground vs. surface waters, the affect of drought conditions on arsenic levels, and environmental vs. man-made sources of arsenic.
Purdex is an independent, drinking water certification and research company that provides empirical information about the quality and safety of drinking water from tap, bottled and filtered water. Purdex maintains the nation's largest and most current database containing millions of drinking water testing results from more than 50,000 public water systems. The Website also provides information such as the Purdex Score; a drinking water ranking tool, trending analysis, and information about contaminants. The free web-based resource establishes an industry standard providing consumers for the first time with information they can use to evaluate the many choices when it comes to drinking water. Purdex also provides marketing intelligence, research and certification services.