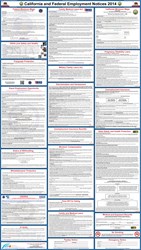 In recent years, more and more revisions to state and federal laws have been enacted into law; don't fall behind on mandatory labor laws.
Brea, CA (PRWEB) October 07, 2013
State and Federal Poster Inc. is proud to announce the arrival of the brand new 2014 complete state and federal posters. State and Federal Poster, Inc. is committed to providing its customers with the most up to date labor law rights and updates for all fifty states. 2013 legislation will bring directly impact businesses. Laws are getting stricter and wages are rising. Don't fall behind as an employer and be subjected to penalties and fines.
It is required by both federal and state mandates that employers display labor laws inside a visible location of the workplace. To ensure your business is compliant, call our compliance specialists, who can provide detailed information about policy changes and additional mandatory posters required for any specific form of business.