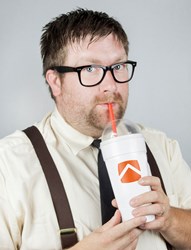 It was a perfect fit.
(PRWEB) October 07, 2013
Michigan Internet marketing and web design company, Artonic, located in Tecumseh, MI hired a new sales manager September 23, 2013. Matthew Perkins has been in the telecommunications field as a sales executive for four years.
"Perkins brings a wealth of experience and technology knowledge to the sales process. More importantly, he wants to be part of a progressive, expanding company," says Matt Harper, Owner of Artonic.
Perkins joins Artonic as the company's fourth new hire this year.
"Matt was looking to grow his company. I was looking to expand my technological horizons beyond telecommunications," Perkins says. "It was a perfect fit."
Perkins worked for local Internet service provider tc3net and national carrier TDS prior to coming to Artonic. He is pursuing a B.S. in Information Security from Baker College.
Local entrepreneur Matt Harper founded Artonic in 2005. Since that time, Artonic has grown into a full-service Internet marketing and web design company, employing graphic designers, Internet marketers, account executives, and web developers. Artonic is one of the leading web design and Internet marketing companies in Michigan.