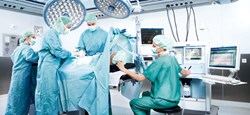 As this market matures, the number of new competitors will rise.
Vancouver, BC (PRWEB) October 07, 2013
According to a new report by iData Research, the leading global authority in medical device market research, the U.S. video, high-tech and integrated operating room (OR) market is expected to reach over $1.8 billion by the end of 2013. Integrated ORs are continually becoming more sophisticated and evolving to adjust to the demands of the U.S. health care system. Operating rooms are viewed as profit centers in healthcare facilities and as more facilities realize the benefit of integrating their ORs, demand will continue to drive this as well as other directly correlated markets.
The advent of new technologies such as 3D and 4K along with voice control and wireless systems will continue to drive the overall U.S. market for video, high-tech and integrated OR equipment. Manufacturers such as Carl Zeiss, Leica Microsystems and Möller-Wedel GmbH are continually improving the quality and functionality of surgical microscopes. The introduction of 3D technology to the visualization systems of these surgical microscopes is expected to increase ASP and also fuel market growth.
"With tight budgets and uncertainty about the future of healthcare expenditure in the U.S., healthcare facilities are placing a much greater emphasis on modularity, safety and the increased efficiency new products provide," says Dr. Kamran Zamanian, CEO of iData. "The continuous strong growth of the integrated OR market will result in this market accounting for nearly 13%, becoming the second largest segment by 2020."
As the markets covered in the report continue to mature, the number of new competitors will rise.
This is especially evident in the integrated OR market and the surgical head light market where an abundance of new competitors can and do enter relatively easily. Facilities prefer to purchase all their products from one supplier in order to simplify the process, ensure compatibility and receive higher discounts. Suppliers will acknowledge this and enter different market segments in order to offer a more diverse line of complementary products, capturing additional market share. This will increase competition and put downwards pressure on ASPs. Currently however, leading companies such as Stryker, Karl Storz, STERIS and Carl Ziess hold over half of the total market share.
Click here for a free summary of this research.
iData's U.S., Japanese and 15 country European (Austria, Belgium, Denmark, Finland, France, Germany, Italy, Luxembourg, Netherlands, Norway, Portugal, Spain, Sweden, Switzerland, U.K) report series on: "Markets for Video, High-Tech and Integrated OR" provide the latest data, market analyses and competitor profiles and forecasts.
About iData Research
iData Research Inc. is an international market research and consulting group focused on providing market intelligence for medical device, dental and pharmaceutical companies. iData provides market tracking, reimbursement tracking and covers research in:
Integrated Operating Room (OR) Market
Surgical Camera System Market
Image Capture and Recording Device Market
Surgical Display and PACs Monitor Market
Medical Printer Market
Surgical Light Source Market
Surgical Headlight Market
Surgical Lighting Market
Surgical Boom Market
Surgical Table Market
Insufflation Device Market
Surgical Microscope Market