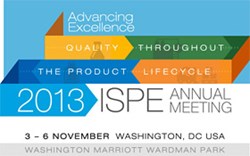 The Quality Metrics session at Annual Meeting will summarize... earlier [ISPE-led] conversations [on quality metrics] and spur continuing collaboration on this vital topic.
Tampa, Fla. USA (PRWEB) October 07, 2013
Pharmaceutical quality metrics will be a key discussion topic between industry leaders and international regulatory agencies at the 2013 ISPE Annual Meeting, 3 – 6 November in Washington, DC USA. The session, entitled "Quality Metrics Outcomes: Conversations with the FDA," will take place during the Executive Series track on Monday, 4 November.
"Open dialogue between industry and regulators is a core tenet of ISPE, and quality metrics in particular is a topic for which this type of discussion is essential," said ISPE President and CEO Nancy Berg. "When FDASIA brought quality metrics to the forefront of industry thinking, ISPE helped lead the charge to bring together regulators and pharma leaders and begin the dialogue. The Quality Metrics session at Annual Meeting will summarize those earlier conversations and spur continuing collaboration on this vital topic."
The industry's first public conversations on quality metrics took place at ISPE's second annual CGMP Conference in June 2013 during a capacity-attendance workshop-style session led by Cindy Salamon, VP, Global Quality Services, Bristol-Myers Squibb and Russell Wesdyk, Science Coordinator, US FDA. The Annual Meeting session will again be led by Salamon, with Wesdyk also returning to present an update on the FDA's perspective. The continuing discussion will feature presentations from the ISPE Quality Metrics working groups on potential metrics for Batch Failure Rates and OOS/Lab Failure Rates, among other new ideas.
Space is still available for this critical discussion. Registration information can be found at http://www.ISPE.org/2013AnnualMeeting. Members of the media wishing to cover this event should email requests for media credentials to ISPE Membership Marketing Communications Manager Danielle Hould at dhould(at)ispe(dot)org.
About ISPE
ISPE, the International Society for Pharmaceutical Engineering, is the world's largest not-for-profit association serving its Members through leading scientific, technical and regulatory advancement throughout the pharmaceutical lifecycle. The 20,000 Members of ISPE are building solutions in the development and manufacture of safe and effective pharmaceutical and biologic medicines and medical delivery devices in more than 90 countries around the world. Founded in 1980, ISPE has its worldwide headquarters in Tampa, Florida, USA and offices in Brussels, Belgium, Singapore and Shanghai, China. Visit http://www.ISPE.org for more information.