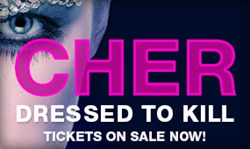 South Windsor, CT (PRWEB) October 04, 2013
Cher tickets for 19 shows on her upcoming Dressed to Kill tour go on sale Friday, Oct. 3. Cher returned to the public eye recently when she premiered the single "Woman's World" on the season Finale of NBC's "The Voice" in her first television performance in over a decade. The single and tour are in support of her 26th studio album "Closer to the Truth" which was released on Sept 20 and debuted at number three on the Billboard 200. It is her highest-charting solo album ever and her first new album since 2001's "Living Proof." Cher tour dates for the Dressed to Kill tour kick-off on March 22, 2014 in Phoenix, AZ and wrap on July 11, 2014 in Sand Diego, CA. Fans can search for Cher concert dates on TicketLiquidator.com.
All trademarks remain property of their respective owners. TicketLiquidator.com does not claim any right or ownership to any of the names contained in this release. These names are strictly used for descriptive purposes and do not imply an endorsement or partnership.
###
Ticket Liquidator® is a leading online ticket marketplace for tickets to popular live entertainment events throughout the United States and around the world. Since 2003, Ticket Liquidator® has provided ticket buyers with access to a selection of premium event seating inventory that now totals more than $1Billion. With customer service available seven days a week, PCI and SSL security certifications and our Worry-Free 125% Guarantee and Safety Net Program, Ticket Liquidator® ensures that ticket purchases can always be made with confidence.