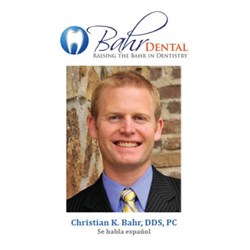 New client testimonials offer a unique patient perspective into Bahr's procedures.
Salt Lake City, UT (PRWEB) October 03, 2013
Bahr Dental Offices of Salt Lake City have long been the choice of many seeking family services from x-rays and cleaning to root canals and wisdom teeth extraction. The experienced and thoroughly trained professionals at this practice are led by Dr. Christian Bahr, one of the top dentists in Utah. Dr. Bahr is one of the most highly skilled professionals in the area, and his popularity among individuals and families is due in no small part to his self-proclaimed "chair-side manner".
There are several dentists in Bountiful to choose from, but Dr. Christian Bahr has quickly become a community favorite. His proficiency in procedures like implants, crowns, and dentures are combined with the friendly demeanor of his entire staff to equate a practice that's quickly gaining momentum. In order to showcase satisfied clientele of the practice, the team at Bahr has implemented a new online feature specifically for patient testimonials. The office's website already features an extensive list of procedures that the dental offices of Salt Lake City offer, but this new update serves to showcase the personable nature of the technicians. These reviews sing praises of Dr. Bahr as one of the most proficient, thorough, and friendly dentists in Utah.
Many dentists in Bountiful offer either family-friendly cleanings, wisdom teeth extraction, dentures, or cosmetic work. Few, however, offer all of these services under one roof. Patients can be treated for nearly any dental procedure at Dr. Bahr's offices. Dr. Christian Bahr is extensively trained in the field, and his credentials are listed on the Bahr website as well. The client testimonials merely serve as an enhancement of an already-comprehensive site. Bahr Dental Offices of Salt Lake City offer their services all across the Wasatch Front, and welcome new patients. The office's site even features new patient forms for review and printing.
With such a reputation, Dr. Christian Bahr is well on his way to becoming one of the most recognized dentists in Utah. The proficiency of his family-friendly associates has only helped to further the credibility of this local dentistry practice, and the staff at Bahr keeps their websites updated daily with services and new reviews. These reviews act as the cherry on top of an already successful family practice. It is Dr. Christian Bahr's mission to be able to create a friendly and welcoming community practice, and, judging by his client testimonials, he seems to be doing just that. For more information on the practice, for a complete list of services offered, or to read client testimonials, visit the practice online at http://www.bahrdental.com.