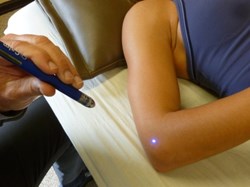 For something so modern and high tech (lasers), it has fit in seamlessly well with the traditional and ancient art of acupuncture.
Eagle, ID (PRWEB) October 14, 2013
An acupuncturist in Boise, Idaho is now using laser acupuncture to help frustrated and injured athletes as well as chronic pain sufferers find long-lasting or even permanent pain relief from their condition. The low-level laser is used to stimulate traditional Chinese acupuncture points that would normally be needled with an acupuncture needle.
"Patients have really been excited about the laser acupuncture therapy", says Tony Burris, L.Ac., the Boise-area acupuncturist employing the unusual therapy. "I use it is an adjunct to my traditional needle therapy or to stimulate points that might be uncomfortable for a patient with needle insertion. For something so modern and high tech it has fit in seamlessly with with and ancient and traditonal art like acupuncture."
Laser acupuncture employs the use of low-level or "cold" lasers at precise locations. The beam stimulates acupuncture points for 10-15 seconds and produces no tissue damage, physical discomfort or heat sensation. Unlike a needle insertion, there is no risk of an infection. This kind of therapy is easily applicable to children.
Burris' is the owner of Eagle Acupuncture and his patients include members of the San Diego Chargers, Washington Redskins, Denver Broncos, Chicago Bears and Detroit Lions. Tony also treats members of the Seattle Mariners, Olympic medalists, mixed martial artists and NCAA competitors. He is also the Team Acupuncturist for the Treasure Valley Roller Girls and has several Hollywood celebs as his clients.
Tony is an 18-year practitioner of Traditional Chinese Medicine (TCM) and is an expert in safe and effective acupuncture therapy and herbal remedies. He is one of two practitioners in the state of Idaho to practice laser acupuncture and is the only practitioner in the United States that offers a "Painless Acupuncture- Or Your Money Back!" Guarantee. Tony is a popular media resource. Click here to watch Tony's very latest television interview!