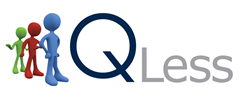 Qless is, like you say, a way to get back those hours that we throw away waiting. With this system, no one will feel as if they wasted time sitting in a reception room waiting.
Pasadena, CA (PRWEB) October 03, 2013
QLess, Inc., the world's first mobile queuing solution, helping organizations replace physical lines in waiting rooms with virtual and mobile technology, was cited in a recent study conducted by Impact Urgent Impact Care, which revealed the use of QLess technologies increased customer satisfaction by 20% at two Impact Urgent Care locations in San Antonio, Texas, as measured by Net Promoter Scores. Impact Urgent Care is a Texas-based medical facility working to provide individuals and families quality medical care.
"We have long measured 95% user satisfaction at QLess locations, and 99% with QLess itself, but it's nice to get an independent validation of the impact of the wait experience using Net Promoter scores, a well-established methodology that explicitly measures clients' willingness to promote a brand to others. There is just no second chance to make a first impression, and the wait experience is the first impression most clients get of any business," said Alex Bäcker, Founder & CEO of QLess, headquartered in California.
The study compared Impact Urgent Care's customer satisfaction index for the months prior to enacting the QLess technology and the months following. Impact Urgent Care CEO and President, Linda Ratner, commissioned the study to measure the effect QLess had on its patients.
"As a business owner, nurse, mom, and consumer of healthcare and retail, I appreciate how frustrating waiting can be," said Linda Ratner. "Our society is so fast paced, it's overwhelming but still there is so much to be packed into a single day. Qless is, like you say, a way to get back those hours that we throw away waiting. With this system, no one will feel as if they wasted time sitting in a reception room waiting. Thank you for creating such a phenomenal way to give my patients control over their healthcare experience."
Providers run QLess on a computer or kiosk set up in the waiting room, which patients access using their smartphone, tablet, or the web. Patients can secure their place in line by entering their cell phone numbers into the system either upon or before arrival and choosing what kind of mobile alerts they want to receive. QLess then notifies patients regarding their wait time, and pushes periodic updates of wait times, including a final notification just before their turn. If users need more time, they have the option to push back their place in line.
This allows for streamlined communication between healthcare providers and patients that grants patients the flexibility to arrive at the facility just in time for service, while giving healthcare providers more control over visitor lines and waiting room capacity. In turn, reduced wait times decrease the amount of exposure patients may face while standing by to be seen in waiting rooms that often collect patients of varying degrees and types of illness in one location.
About QLess
Founded in 2007 by scientist, inventor, and entrepreneur Alex Bäcker, QLess has established offices around the world with the mission of eliminating waiting in lines from the face of the Earth. With an elite team from leading universities and Internet companies including Caltech, MIT, Oxford and Yahoo!, QLess is attuned to the fact that the average person spends two years of her life waiting in line and has created a way for individuals to receive services without having to waste valuable time. By replacing physical lines and waiting rooms with virtual, mobile lines accessed via phone, tablets or the web, QLess has given individuals the freedom they want while maintaining users' place in line. QLess provides establishments with a proven boost in customer satisfaction and profits through walk-out reduction while collecting an unprecedented amount of actionable data presented in a business intelligence analytical dashboard.
About Impact Urgent Care
Expect the unexpected when you arrive at Impact Urgent Care. Our unique approach to urgent medical care pulls from our experience, knowledge and education combined with the empathy we have for our patients and the customer centric service we provide. We are your physician when you need the convenience of quality medical care in your neighborhood or after hours. While always working and communicating with your primary care physician.
Impact Urgent Care listens to you and provides personalized medical guidance and services. Our passion for you, our patients and serving your needs with respect and care will always come through. We provide direct, honest answers to your questions that will help you feel better, confident and more knowledgeable.