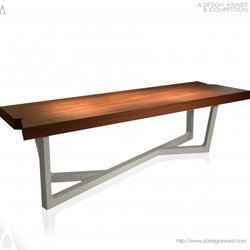 Como, Italy (PRWEB) October 04, 2013
A' Design Award and Competitions are happy to inform that the work Chromosome X by Helen Brasinika and Anastasia Rokkou has been honored with the prestigious Golden A' Design Award in Furniture, Decorative Items and Home ware Design Category.
Concerning Chromosome X
The Chromosome X is a dining table that designed to provide seating for eight people, who interact in arrow arrangement. The top is an abstract X, made of two different pieces accentuated by a deep line, while the same abstract X is reflected on the floor with the base structure. The white structure is made of three different pieces for easy assembling and transportation. Moreover, the contrast of teak veneer of the top and white color of the base was selected to lighten the lower part giving more emphasis on the irregularly shaped top, thus providing a hint for different interaction of the users.
To learn more, please visit: http://www.adesignaward.com/design.php?ID=28397
Design Team for Chromosome X
Chromosome X was imagined by Helen Brasinika - Head Designer & Project Manager and Anastasia Rokkou - Senior Design Technologist & Visualizer
The Golden A' Design Award
The Golden A' Design Award is a prestigious award given to top 3% percentile designs that has exhibited an exemplary level of greatness in design. The designs are judged by a panel of three different jury which is composed of Academic, Professional and Focus Group Members. The designs are evaluated with score normalization to remove any biases and are voted on aspects such as functionality, ergonomics, engineering, presentation, innovation, usability, fun details, technology, and any other specific points that could be considered, each of these points are further weighted for different jury groups.
About A' Design Award and Competitions
A' Design Award and Competitions, aims to highlight the excellent qualifications of best designs, design concepts and design oriented products. A' Design Award and Competitions are organized and awarded annually and internationally in multiple categories to reach a wide, design-oriented audience. To learn more visit: http://www.whatisadesignaward.com