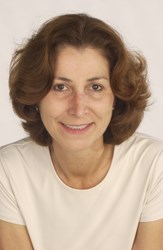 Austin, TX (PRWEB) October 03, 2013
Patients with limited bone density in the jaw and multiple missing teeth can now enjoy the ability to receive dental implants with Dr. Corinne Scalzitti's use of mini implants. Traditional implants require a certain amount of density in the jaw bone in order to drill into and take proper hold. For patients that do not have enough density, bridges or removable dentures were the only options. Now mini implants feature shorter posts and therefore require less bone in order to be placed. Additionally, mini implant surgery can be completed in as little as two hours, requiring only a local anesthetic.
For people that have lost teeth due to gum disease, trauma or other reasons, the option to have the most natural-looking and performing prosthetic is a welcomed opportunity. Dr. Scalzitti understands the desire patients have to replace a mouth full of missing teeth with the most comfortable and longest lasting solution possible. Dental implants, including mini implants, provide superior performance by stimulating the bone and preventing resorption or the eventual eroding away of the bone. If teeth are missing and implants are not placed, the bone will resorb back into the body and could lead to jaw misalignment, speech impairments, a misshapen jaw and more.
The process of placing mini implants is far less invasive than that for full, traditional dental implants. It requires only a local, not general, anesthetic and can be completed in one office visit typically lasting between one and two hours. There is less trauma and impact on the surrounding tissues, which makes the recovery period far less painful and far shorter than with full implants. Mini implants make the replacement of missing teeth easier than ever before. Additionally, the cost of mini implants is typically far less than for full dental implants.
Dr. Scalzitti welcomes any dental patient interested in learning more about their options for either full or mini implants to visit her office or her website at http://www.beecavecosmeticdentistry.com. Dr. Scalzitti and her staff take great pride in offering the latest in dental technology with patient results and comfort in mind.
About The Doctor
Dr. Corinne Scalzitti is a general dentist offering personalized dental care for patients in Austin, TX. Dr. Scalzitti received her Doctor of Dental Medicine degree from University of Pittsburgh School of Dental Medicine. She went on to earn her status as Master of the Academy of General Dentistry, a degree that is only achieved by one percent of all practicing dentists in the U.S. Dr. Scalzitti is also part of one percent of dental professionals providing the only FDA cleared laser procedure for gum disease and periodontal treatment. To learn more about Dr. Scalzitti and her dental services visit her website at http://www.beecavecosmeticdentistry.com and call (512) 351-3443.