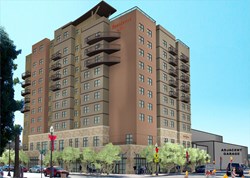 Tempe, Arizona (PRWEB) October 09, 2013
Location is everything. That's true always, but even more so for a city and for a hotel. Tempe, Ariz. is located in the middle of the metropolitan Phoenix area. And, the newest addition to Tempe's mix of accommodations is the Residence Inn by Marriott Tempe Downtown, located in the middle of the bustling Mill Avenue District. Details about this new Residence Inn can be found at the Tempe Tourism Office website.
The Residence Inn by Marriott Tempe Downtown, 510 S. Forest Avenue, has 173 modern suites, 4,500 square feet of meeting and reception space, a rooftop pool and fire pit area overlooking Tempe's iconic "A" Mountain and downtown Tempe. The hotel is steps from a METRO light rail stop at the Tempe Transportation Center, the Arizona State University Tempe Campus and the Mill Avenue District, offering more than 100 shops, restaurants and taverns. This hotel is situated in the same spot as where the Bandersnatch Brew Pub was located, a well-loved gathering spot that closed in 2003. The new Residence Inn pays homage to Bandersnatch's "Alice in Wonderland" theme, both with stunning artwork salvaged from the pub and meeting rooms with names reminiscent of the Mad Hatter.
For a closer look, view a video showcasing the new Residence Inn by Marriott Tempe Downtown.
Owned by the Miami based Finvarb Group, this Residence Inn will cater to both business and leisure travelers alike. It is five miles from Phoenix Sky Harbor International Airport, which can be accessed by a complimentary 24/7 shuttle or via METRO light rail. Its proximity to the ASU Tempe Campus will make it a natural fit for visiting parents and families, ASU alumni, sports fans and people coming to Tempe for one of the many special events in the area such as Ironman Arizona, Cactus League Spring Training and the Tempe Festival of the Arts. And, it is close to corporate headquarters such as Go Daddy and US Airways.
Rooms range from studios to one and two-bedroom suites with full kitchens and well-lit work areas. Amenities include complimentary hot breakfast buffet, a social hour Tuesday, Wednesday and Thursday evenings, high speed Internet and a grocery shopping service.
There are more than 40 Tempe hotels with more than 5,000 rooms. For more information about the Residence Inn by Marriott Tempe Downtown and other hotels in Tempe, visit the Tempe Tourism Office at http://www.tempetourism.com or call 800-283-6734.
About Tempe Tourism Office
The Tempe Tourism Office is a non-profit organization devoted to marketing Tempe, Arizona as a desirable visitor and group destination site. The Tempe Tourism Office's mission is to provide visitors, media professionals and meeting planners with information on Tempe hotels, Tempe restaurants, Tempe entertainment and local points of interest. To learn more about Tempe, Arizona please call 480-894-8158 or 800-283-6734 or visit our website.