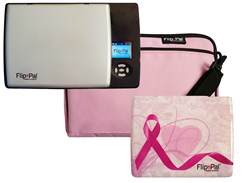 Couragent sponsors National Breast Cancer Foundation during National Breast Cancer Awareness Month
Fort Collins, CO (PRWEB) October 04, 2013
Couragent, Inc., announced that for the second straight year it is an official sponsor of the National Breast Cancer Foundation. Beginning in October, National Breast Cancer Awareness Month, Couragent will offer a special pink Flip-Pal mobile scanner bundle to its customers. In addition to a license fee, 10% of the purchase price of each pink bundle will go to the National Breast Cancer Foundation. The pink bundle will be available for purchase on the Flip-Pal mobile scanner website http://www.flip-pal.com/breast-cancer-awareness/.
"Couragent is honored to be a sponsor for the National Breast Cancer Foundation again this year. Our company was founded on the five core values of Courage, Integrity, Collaboration, Innovation and Care. People who have breast cancer and those that are helping others fight this disease truly embody the concepts of Courage and Integrity," said Gordon Nuttall, Couragent CEO and Founder.
Lisa Milner, Sales and Marketing Director for Couragent, mentioned, "Within months of sponsoring the NBCF, my sister was diagnosed with Stage 3 breast cancer. She has undergone chemotherapy, surgery and radiation and is considered to be in remission. Until a cure is found, NBCF provides the best care and resources for the patient and their co-survivors and their "beyond the shock" website (http://beyondtheshock.com) provides an online education series where you can ask questions and get support from other people."
"Each and every one of us is touched or knows someone or has a relative or friend that has been affected by breast cancer. It's exciting to partner with an emerging Colorado based company like Couragent. They are great to work with and really do care about helping others," commented Brent Hail, Senior VP of Development, National Breast Cancer Foundation.
About the National Breast Cancer Foundation, Inc.
Recognized as one of the leading breast cancer organizations in the world, the National Breast Cancer Foundation's (NBCF) mission is to save lives through early detection and to provide mammograms for those in need. NBCF provides women help for today and hope for tomorrow through its National Mammography Program, Beyond The Shock®, Early Detection Plan, MyNBCF online support community and breast cancer research programs.
About Couragent
Couragent provides patented solutions that solve everyday problems, are designed to be simple to operate so many can use them and have a combination of benefits not available anywhere else.
About the Flip-Pal mobile scanner
The Flip-Pal mobile scanner is a battery powered, color flatbed scanner for photos and documents. The patented flip-and-scan technology allows scanning photos in place without removing them from an album or frame. When preserving memories really matters, Flip-Pal is the best scanning solution.
The Flip-Pal® mark is a registered mark of Couragent, Inc.
The Couragent™ mark is a trademark of Couragent, Inc.
Links
The Flip-Pal® mobile scanner website: http://www.flip-pal.com
Facebook: http://www.facebook.com/FlipPal
Twitter: twitter.com/mobilescanning
Pinterest: http://www.pinterest.com/flippal/
Google+: plus.google.com/117504314715668880563/posts
YouTube: http://www.youtube.com/user/TheFlipPal
LinkedIn: linkedin.com/company/couragent
The Couragent, Inc. website: http://www.couragent.net