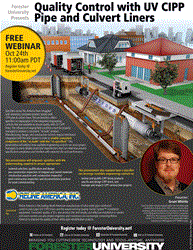 This will be an in-depth discussion covering the importance of integrated quality controls from the built-in system controls, to design, manufacturing, and construction controls.
Saltville, VA (PRWEB) October 07, 2013
Trenchless methods (e.g., UV CIPP lining) have become a preferred method for addressing aging pipe and culvert renewal with usage rates now exceeding direct-burial replacement. Despite such widespread use, specifiers have struggled with achieving consistent product quality with CIPP pipe and culvert liners. This presentation offers attendees an explanation of the integrated engineering controls that are available to ensure quality with UV CIPP liners, including proper management of field conditions to achieve a consistent compliance of the "as-built" with the "as-specified."
Topics to be explored include: proper material selection, qualification, and design; pre-construction inspection of shipped and stored materials; construction practices and inspection; and post-construction inspection and documentation for asset commissioning. Additionally, the presentation will outline how to leverage controls to review and qualify CIPP lining products; specify and design CIPP liners; and manage and inspect CIPP construction projects. Finally, the presentation will cover how available engineering controls can assist project managers to more reliably avoid liner imperfections that can otherwise prevent specification compliance and interfere with expected life-cycle performance.
This webinar presentation is being hosted by Forester University. Advanced registration is encouraged for live attendance. The presentation will also be archived and available for viewing at a later date. Register for or Log-in to the presentation at Forester University http://www.foresteruniversity.net/webinar-quality-control-cipp-pipe.html. Forester University also hosts additional CEU/PDH qualifying webinar presentations which you may also wish to consider.

Presentations are scheduled for approximately one hour. Webinar may exceed scheduled time.
Each state and certification agency has different requirements; it is your responsibility to know what they are.
Note that 1 PDH = 0.1 CEU.
About Reline America, Inc.®
Reline America is the leading North American manufacturer of ultra-violet glass reinforced cured-in-place pipe (UV CIPP) liners and of the award-winning Quality-Tracker System™ installation equipment (available for 6" to 54" pipe). Across America, pipes and culverts are getting older every day and in increasing need of renewal. Community and environmental impact are substantially reduced with the use of trenchless pipe rehabilitation. Project engineers and contractors are increasingly contacting Reline America to improve the quality of their utility pipe rehabilitation projects; learn more about Reline America's products on the World Wide Web at: http://www.relineamerica.com.
Reline America's seamless, spirally-wound UV CIPP liners have a six-month, non-refrigerated shelf-life, cure more reliably, and are up to six-times stronger than legacy felt liners. Consistent quality, a 50+ year product life, and simple, cost-effective installation in sewers and storm culverts have UV CIPP liners rapidly displacing legacy felt-based technologies. Reline America's UV CIPP liner technology has been installed in over 25 countries world-wide, with over 1,000,000 lf sold across North America.
Reline America, Inc.® has secured its place as the leading North American manufacturer of cutting-edge trenchless pipe rehabilitation products with a state of the art, ISO 9001:2008 equipment and liner manufacturing facility in Saltville, Virginia, together with an on-site, fully-staffed laboratory, machine shop, equipment maintenance shop, and product development department. For support of contractors, project engineers, and end-users, Reline America has available civil, environmental, chemical, and mechanical engineering expertise, along with utility asset management, laboratory testing, electrical, machinist, and construction expertise.
Press Contacts:
Grant Whittle, Reline America, Inc.®
1.276.496.4000 gwhittle(at)relineamerica(dot)com
Bridget Ball, Reline America, Inc. ®
1.276.496.4000 bball(at)relineamerica(dot)com