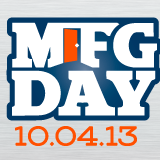 Rockford, Ill. (PRWEB) October 04, 2013
As of 8 AM Eastern this morning, Manufacturing Day 2013 is officially underway. The national movement, which culminates in a host of grassroots events that celebrate modern manufacturing across the United States on the first Friday of October each year, has assumed truly national proportions in just its second year.
Event enrollment has more than tripled from Manufacturing Day's inaugural year, with 814 events — including plant tours, educational fairs, and summits on manufacturing technology — taking place today and throughout October and early November. Organizations representing the diversity and sophistication of modern manufacturing will participate in all 48 contiguous United States, as well as in Puerto Rico and the Canadian provinces of British Columbia and Ontario.
Manufacturing Day is an annual national event, executed at the local level, that supports hundreds of manufacturers across the nation to host students, teachers, parents, job seekers and other local community members at open houses designed to showcase modern manufacturing technology and careers. A panel of co-producers comprised of the Fabricators & Manufacturers Association, International (FMA), the National Association of Manufacturers (NAM), the Manufacturing Institute (MI), the National Institute of Standards and Technology's (NIST) Hollings Manufacturing Extension Partnership (MEP), and guest producer Industrial Strength Marketing (ISM) provide the centralized support necessary to coordinate this nationwide array of simultaneous events. The national media partner for the event is the Science Channel, which will broadcast a "How It's Made" marathon to celebrate Manufacturing Day on October 4.
"It's simply amazing to all of the co-producing organizations how quickly this national event has been embraced by the manufacturing community," said Ed Youdell, president and CEO of the Fabricators & Manufacturers Association. "Not only do we have over 800 individual events, there are 145 endorsing organizations and nearly 20 sponsors actively expressing their support. It's great to see this kind of collaborative spirit in the industrial sector."
To learn more about Manufacturing Day, visit http://www.mfgday.com.
For more information from each of the co-producers, please contact:
Fabricators & Manufacturers Association, Intl.
Patricia Lee
Director of Marketing
(815) 227-8286
patl(at)fmanet(dot)org
National Institute of Standards & Technology
Hollings Manufacturing Extension Partnership
Jennifer Huergo
Director of Media Relations
(301) 975-6343
jennifer.huergo(at)nist(dot)gov
National Association of Manufacturers and
The Manufacturing Institute
Matt Lavoie
Senior Director of Media Relations, Communications
(202) 637-3085
mlavoie(at)nam(dot)org
Industrial Strength Marketing
Joey Strawn
Director of Integrated Marketing
(866) 529-8908
jstrawn(at)marketstrong(dot)net
###