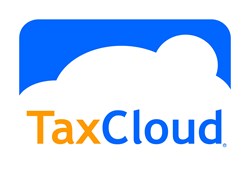 Sales tax has traditionally been painful for merchants and [TaxCloud] reduced it to a few lines of JavaScript. - John Collison, president and co-founder of Stripe
Norwalk, CT (PRWEB) October 04, 2013
FedTax, creator of TaxCloud, the internet's only free sales tax management service, today announced it has selected Stripe, the internet's easiest-to-use online and mobile payment platform, as their launch partner for TaxCloud.js, a new JavaScript implementation of TaxCloud's sales tax management API (application programming interface).
The introduction of TaxCloud as a companion service to Stripe allows any merchant using Stripe to easily comply with all current and future sales tax laws in every jurisdiction in the United States—at no cost.
TaxCloud's award-winning, state-certified sales tax compliance service, determines the sales tax due at the time of sale, allows for sales tax exemptions and holidays, provides merchants with detailed collection reports, and creates and files merchants' sales tax returns. In addition, because TaxCloud has already been certified by many states, it can indemnify businesses in the unlikely event of errors and even respond to sales tax audit inquiries on behalf of participating Stripe merchants.
"TaxCloud is a great partner," said John Collison, president and co-founder of Stripe. "They're taking something that has traditionally been painful for merchants and reducing it to a few lines of JavaScript."
"Sales tax doesn't need to be difficult or costly," said R. David L. Campbell, FedTax CEO and co-founder. He continued, "Stripe's strong brand position in online and mobile payments coupled with their reputation for technical and customer service excellence made them the ideal launch partner for TaxCloud.js, and we are honored to be working with them."
About FedTax
FedTax, the home of TaxCloud, was founded in Seattle in 2008 to offer online businesses a free and easy way to calculate and collect sales tax. Today over 3500 retailers use TaxCloud to manage sales tax. For more information, visit https://taxcloud.com.
FedTax Contact:
Daniela Saunders
SVP Marketing
dsaunders(at)fedtax(dot)net
+1 203-803-2048