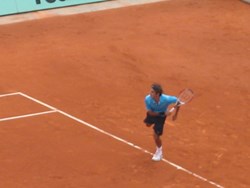 Harbor Springs, MI (PRWEB) October 08, 2013
RedClay USA LLC confirms talks are ongoing with several new properties, including Boyne Resorts of Michigan and Robbie Wagner's Tournament Training Center of New York, for full-scale conversion to red clay tennis courts and association with the RedClayClub and its grassroots initiative.
RCUSA reports an increase in clubs and resorts requesting information about their RedClayClub program since The Fairlane Club of Detroit first announced discussions with RCUSA in July 2013.
"We've opened up dialogues across the national tennis establishment. Everyone from the USTA to major resorts are responding openly to our red clay movement. They all see the logic and benefits for the U.S. to "slide over", to the red clay," says CEO Brian Osterberg.
Fairlane owner Russ Ebeid says, "Brian and I are reviewing plans to present The Fairlane Club as an international tennis club that promotes multicultural exchange and unity through, what basically is a new sport for America, but one the whole world can already relate to. We want to attract people to Michigan from around the world with RedClay tennis because it's present in so many diverse societies. We could welcome China, India, Asia, Middle East, South America and Europe to America as we finally join the red clay culture they already enjoy."
"Our first RedClayClub member site list has begun taking shape with premier clubs preparing to go all in, all red," says Osterberg, "Basically a complete conversion of their existing hard or green clay courts to the more internationally revered and original European red clay," states Osterberg.
Redclayclub.org will digitally serve to unify all players and clubs on an open RedClay platform to voice support and popularize the court surface in America. The goal is to add RedClay to every town, club and school.
Osterberg states, "As far as a much safer youth/school activity that is played for a lifetime, red clay tennis holds very promising appeal. I'm speaking with the USTA to intertwine our efforts and goals. We look at RedClay tennis to become a new alternative to youth football. We'd like to set the stage to attract all youngsters in America to be able to try RedClay tennis. Play and stay healthy for a lifetime. Just like I've seen in Europe for decades."
Boyne Resorts President Stephen Kircher is one major national resort operator holding talks with RCUSA to discuss integrating existing Boyne tennis facilities with the European RedClay tennis culture of sport and leisure. As a former host of the Rod Laver Tennis Academy in the 1970's, and a current leader in ski and golf, Boyne is equipped to introduce world-class resort and training center offerings on RedClay.
Robbie Wagner's Tournament Training Center of Long Island, New York is also holding discussions with RCUSA for its place on the elite Founding Member list for the RedClayClub. Mr. Wagner is keen on replacing his entire complement of thirteen indoor green clay courts with new RedClay courts, creating one of RedClay USA's first epi-centers and leading the U.S. transition to junior tennis training on red clay courts.
A RCUSA Task Force is submitting plans to the USTA requesting a joint nationwide effort for introducing RedClay tennis to all K-12 schools.
RCUSA is working to attract major international corporations to sponsor its efforts for introducing European RedClay to America, including airlines, banks, beverage companies, etc.
"We're seeking partners and resources to continue supporting the RedClayClub and initiative as we reimage tennis and sport in America by entering the global community of red clay tennis," says Osterberg, "Adding Boyne Resorts and Robbie Wagner to our Founding Member group would be a great step forward. Broadcasting our own digital content around the world from the RCTV Studio Court at The Fairlane Club, is a key promotional tool for emblazing a beautiful red clay court on screens around the world, year-round."
An inaugural RedClayClub Conference to promote the RC Initiative will be announced soon for next spring, hosted at The Fairlane Club in Detroit. RCUSA plans on bi-annual RedClay Conferences to keep their objectives in the international sports/social commentary.
RedClay USA LLC is a private corporation spearheading the promotion for nationwide red clay tennis introduction in America. It supports an international coalition for red clay, under the banner of redclayclub.org.
redclayclub.org launches fall 2013.
Contact: ph: 231 622 3692
brianosterberg(at)redclayusa(dot)com