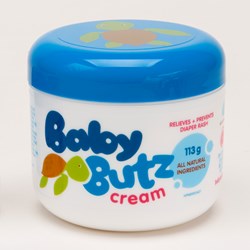 I made this miracle product for my miracle son and I am proud to be able to share it.
Las Vegas, Nevada (PRWEB) October 08, 2013
In less than 2 years, Baby Butz cream, an award winning, Health Canada licensed, natural health product, has spread across Canada into baby boutiques, pharmacies, health product stores and large grocery chains.
Baby Butz cream will be introduced to domestic and international buyers, media and fellow suppliers at the premier juvenile products show in the world October 15-18, 2013 at the Las Vegas Convention Center.
Baby Butz cream will be located in the coveted "Naturally Kids®" section at booth # 1621.
The Naturally Kids section showcases juvenile product manufacturers that focus on producing environmentally friendly products which are healthy for families and young children. In addition, they demonstrate a responsibility to our planet and its natural resources.
When asked "What makes this product different?" Majda Ficko owner of Olen Cosmetics replied, "Baby Butz cream is the safest and most effective diaper rash treatment available without a prescription...it's so effective that it heals most diaper rashes in 6 hours or by the next diaper change and severe rashes are healed overnight or less than 24 hours! It's 100% natural ingredients makes it so safe that it is being used in hospital neonatal units on preemies!"
"I made this miracle product for my miracle son and I am proud to be able to share it."
Doctors, nurses and pharmacists are recommending Baby Butz cream and Paediatricians are handing out samples to their patients.
Olen Cosmetics Corporation is a Canadian manufacturing and distribution company that focuses on the development, commercialization and distribution of its own all - natural products for babies and children.