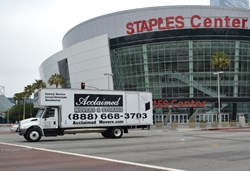 Los Angeles, CA (PRWEB) October 05, 2013
International moving has been added to the comprehensive menu of services offered by Los Angeles-based Acclaimed Movers and Storage. From meticulous packing in cargo containers to efficient shipment and pickup, all household goods, vehicles and machinery will be moved safely to any global destination. Every customer moving overseas will be assigned a personal international moving consultant to assist with scheduling and to answer questions. These knowledgeable professionals will work carefully with their clients to handle all necessary paperwork, including customs and shipping regulations and required documentation. The company's goal is to take the stress and hassle out of moving to a new country, and their international relocation team possesses the knowledge and experience to do just that. Long one of the top luxury movers for residential and commercial relocation, Acclaimed Movers now positions itself as one of the premier international moving companies with a staff of experts specifically trained to meet the challenges of moving outside the USA.
For over a decade, Acclaimed Movers and Storage has helped residential and commercial customers successfully relocate their homes and businesses—to a new neighborhood or a new state. Acclaimed Movers employees undergo a thorough in-house training program, ensuring they have the expertise to pack, crate and move any item safely. Heavy duty boxes are fortified, and delicate or valuable items (such as flat-screen TVs, computers, artwork and more) are protected by custom-designed crates built for the long haul. Professional movers will even break down and reassemble furniture, cubicles, etc. Acclaimed Movers' "green" moving fleet is equipped with environmentally friendly bio-diesel fuel engines, low rolling resistance tires, and GPS systems. A completely secure, state-of-the-art technology, climate-controlled storage facility will accommodate any items that need to be stored. Houses and condos, offices and warehouses, even restaurants and museums will be moved with complete success by the Acclaimed Movers' team.
Dedication to customer satisfaction and premium service has allowed Acclaimed Movers and Storage to outpace all other long distance moving companies in quality and dependability. From courteous and professional staff members to mastery of the packing process to safe, reliable and timely transportation of goods from Point A to Point B, Acclaimed Movers displays a commitment to customer service unparalleled by other professional movers. Clients appreciate the company's efficiency, reliability and value, and continue to look to Acclaimed Movers and Storage for their residential and commercial relocation needs. A free, no-obligation quote for local, national or international relocation is available online or by phone.