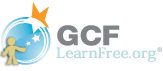 'I can't thank you enough for offering Excel at no charge. Your program may make the difference of what type of employment I can find.' - GCFLearnFree.org User
Durham, NC (PRWEB) October 04, 2013
Rev. Dennis McLain, president of Goodwill Community Foundation (GCF) announces that 5 million people world-wide have improved their knowledge at GCFLearnFree.org® and GCFAprendeLibre.org® since January. Provided at no-cost to users, the sites offer training and information on a wide variety of subjects including English, math and technology.
Both online learning tools are designed to help anyone, anywhere, anytime gain the technology, math and English skills needed to improve their life. With options for continuing education credits (CEU), GCFLearnFree® and GCFAprendeLibre® users are able to improve their skills and position themselves for success in the 21st century work force.
Many users share their successes with GCFLearnFree.org®. Margarita Jimenez, a user sent an email that states, "Thanks to this course, I was able to perform very good on a test, which helped me to get a job at a district office. Thanks a lot for these courses; without your help, I wouldn't be able to pay for a course like this." Another anonymous user from the United States shares, "I can't thank you enough for offering Excel at no charge. Your program may make the difference of what type of employment I can find."
Rev. Dennis McLain, president, Goodwill Community Foundation says, "This is an important milestone for us. Everything we do at GCF is focused on helping people improve their lives. I believe that by offering free online learning tools we can create a future for people who might not otherwise have access to these learning resources. I'm proud of our team and all they have done to reach these 5 million people. GCF is committed to a lifelong learning partnership that enables our students to stay current with the changing world of technology," says McLain.
Both sites are a service of Goodwill Community Foundation (GCF) and provide anyone, anywhere easy-to-follow lessons in technology, math and English. Over the last 3 years, 12.8 million unique learners have used GCF 21.7 million times for self-improvement. GCF has been providing online learning to Eastern North Carolina, North America and the world since 2000. To learn more about the mission and support of GCF, please visit http://www.GCFGlobal.org.
ABOUT Goodwill Community Foundation (GCF)
GCF continues to be a leader in an era of change by providing the training required for the emerging world where technology is integrated into everyday life. The mission of GCF is to create and provide education, employment and life enrichment opportunities regionally, nationally and internationally for people who desire to improve the quality of their lives.
For more information on GCF®, visit us at http://www.GCFGlobal.org.