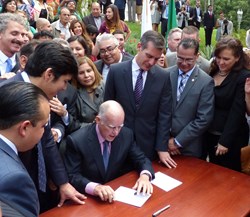 "Today is a historic day," Mrs. Gallardo said at the press conference.
Los Angeles, CA (PRWEB) October 08, 2013
California joined the increasing list of States that accept the immigrants who are in the United States illegally to obtain a driver's license. Latinos Activists, The Department of Police and Insurance leaders supported this law since the beginning.
Governor Jerry Brown along with Los Angeles Major Eric Garcetti Lead the press conference held at the City Hall in Los Angeles. Governor had the opportunity to continue expressing his desire to keep pushing forward for an immigrant reform.
"This is only the first step", Brown said outside City Hall in Los Angeles. "When a million people without their documents drive legally and with respect in the state of California, the rest of this country will have to stand up and take notice. No longer are undocumented people in the shadows."
The licenses, which are expected to become available no later than January 2015, will carry a special designation on the front and a notice stating that the document is not official federal identification and cannot be used to prove eligibility for employment or public benefits.
L.A. Major Eric Garcetti also shared some words "When people ask, what does history feel like? It feels like this", said Garcetti during the event. The new laws are expected to increase road safety by ensuring that all drivers are properly trained, pass the DMV driving test, know our state traffic laws, and are insured.
Adriana Gallardo, CEO of Adriana's Insurance, was also present at the ceremony representing the insurance industry as one of the largest insurance companies in Southern California. Mrs. Gallardo had the chance to address a speech with CHIRLA (Coalition for Humane Immigrant Rights of Los Angels) inviting all people to keep pushing forward now for an immigrant reform.
"Today is a historic day", Mrs. Gallardo said at the press conference. "We have to continue fighting for our rights but we will only accomplish that by fighting together." Adriana's Insurance has been involved in many causes in recent years sharing their philosophy of helping all Latin community.
Adriana's Insurance, the largest insurance brokerage with over 20 years of experience in Southern California, has been helping families and businesses in California find insurance policies they need at the lowest rates possible. With more than 50 locations throughout Southern California, Adriana's Insurance is the fastest growing insurance agency in all of California, and we are eager to meet all of your insurance needs. Whether you are looking for California home owners insurance, auto insurance, RV insurance, motorcycle insurance or business insurance, we can tailor an insurance plan to fit your needs.
Source:
Legiscan: Bill Text: CA AB60 | 2013-2014 | Regular Session | Chaptered; October 3, 2013