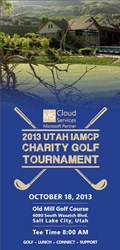 It breaks our hearts to think of these children not having stable home environments...
Salt Lake City, Utah (PRWEB) October 04, 2013
Members and friends of the technology community will come out swinging on October 18th. The Utah IAMCP and title sponsor MS Cloud Services are sponsoring a Say Farewell to Summer on the Fairways benefit golf tournament for the local non-profit Utah Foster Care (UFC). Utah Foster Care helps provide support and services to fostering families to care for the estimated 2600 Utah children in foster care.
Set to take place at the popular Old Mill Golf Course on Wasatch Boulevard, the event will be at the door to the Cottonwood Canyons. The venue provides a spectacular backdrop for the golfers and sponsors to enjoy. A late season golf event, the Utah IAMCP wants to help ensure that more children needing fostering get cared for in time to have a good holiday season.
MS Cloud Services President Kevin McMillen noted, "It breaks our hearts to think of these children not having stable home environments, so we agreed to be a title sponsor for this event. By working together as a community, we hope to provide additional support to improve the lives of some of the most disadvantaged of Utah's children."
Registration is open for golfers, who can sign up as an individual or submit their own foursome. There are also some sponsorship opportunities still remaining, and interested sponsor companies and individuals can contact Amber Laws at 801-232-1126 for details. Sponsorships and registration fees are tax deductible for the 501C3 group, subject to regulations.
About Utah IAMCP
The Utah Chapter of the International Association of Microsoft Channel Partners (IAMCP) was formed to give a voice to the Utah community of Microsoft partners in the technology rich environment in the state. An organization designed to facilitate mutual growth and business development among partners and provide networking opportunities to its members, the Utah IAMCP also strongly believes in supporting community based organizations that serve to help others.
A non-profit organization, the Utah IAMCP is a membership organizations funded through membership fees and sponsor grants.
About MS Cloud Services
MS Cloud Services is based in Park City, UT. Originally founded in 1999, the company has been servicing and selling Microsoft solutions since before the cloud was created. In 2010 it began its mission to replace every service we provide with Microsoft Cloud Services like Office365, Windows Intune and Azure. Thousands of our customers enjoy the cloud throughout the US and Canada.
The Microsoft Partner of the Year Status was bestowed on the company in 2012, ensuring it as the premier way to gain access to the resources and solutions available in the Microsoft Cloud Services realm. MS Cloud Services holds a Gold Partner Certification in Application Development, Silver in Cloud Services Application Accelerant, and is also certified Microsoft Small Business Specialist.
About Utah Foster Care
Utah Foster Care (UFC) is a nationally recognized non-profit organization that finds, trains, and supports Utah families who are willing and able to provide a nurturing home for children who have been neglected or abused. Our mission is to serve Utah's children by finding, educating families to meet the needs of children in foster care.
UFC is a 501(c)(3) organization created by the Utah legislature in 1999.