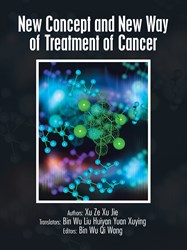 Everyone knows someone who has been impacted by this disease. The book exposes groundbreaking treatment options that improve the patient's quality of life
Baltimore, MD (PRWEB) October 05, 2013
Side effects of chemotherapy include hair loss, nausea and decreased blood cell count. While this is a common treatment, it is not the only one. Two Chinese doctors have recently published their findings regarding new age treatment options.
Xu Ze, Xu Jie and Bin Wu have nearly 50 years of surgical experience and more than twenty years of research to support their finding in their book, New Concept and New Way of Treatment of Cancer. They reveal insights on the nature of the disease and recommended multiple treatment options.
"Cancer is universal," says Ze. "Everyone knows someone who has been impacted by this disease. The book exposes groundbreaking treatment options that improve the patient's quality of life."
Ze,Jie and Wu summarize their clinical research and provide extensive references leading to an entirely new paradigm for viewing cancer. They analyze natural and effective methods of immunotherapy treatment as an alternative to traditional chemotherapy.
Throughout their research, they have used nearly 50 different kinds of traditional Chinese herbs to counteract the effects of cancer. The authors document the methods that have produced remarkable curative effects.
Through publishing their findings in New Concept and New Way of Treatment of Cancer, Ze, Jie and Wu hope to present new ways conquer various types of cancer.
New Concept and New Way of Treatment of Cancer
By Xu Ze, Xu Jie and Bin Wu
ISBN: 978-1481732703
Retail price: $22.95 softcover, $3.99 eBook
Available at amazon.com and barnesandnoble.com
About the authors
Xu Ze graduated from Tongji Medical University in 1956 and has successively held numerous prestigious positions in medicine and research. He has been engaged in surgery work for nearly 50 years and has accumulated rich experience combining Western medicine with traditional Chinese medicine.
Xu Jie graduated from the Medicine School of Wuhan University in 1996 and has served as associate chief physician of surgery in the Hubei Hospital of Traditional Chinese Medicine. He engaged in experimental study along with Xu Ze of the effects of traditional Chinese herbs on cancer.