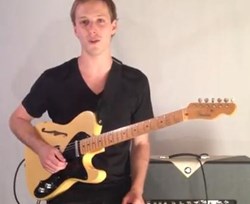 (PRWEB) October 04, 2013
The riff shown in the video reinforces many critical guitar concepts, including improvising from a pentatonic scale, and changing position on the neck to achieve different sounds.
"Something I notice about Eric Johnson's playing is his use of range on the instrument," MacLennan says. To demonstrate this range, the lick MacLennan teaches in this video shows guitarists how to switch position on the guitar to create a dynamic, bluesy sound. The lesson also shows how by using the pentatonic scale, one of the first scales guitarists learn, players can create unique melodies and improve their solo-ing and composition skills.
Uploaded in 2012 but just published, this pentatonic blues lesson gives a note-by-note overview of the Eric Johnson lick, as MacLennan discusses the scale involved and proper finger placement for each note. The lesson includes a slowed down version of the lick, as well as MacLennan playing it up-tempo to great effect. A link in the video description leads guitarists to sheet music and tabulatures they can use to practice offline.
"One of the most respected guitarists on the planet," according to Guitar Player magazine, Eric Johnson is a an American guitarist from Austin, Texas. He won a Grammy in 1991 for Best Rock Instrumental Performance for the single "Cliffs of Dover" from his platinum selling-record Ah Via Musicom.
Guitar Control instructor Jon MacLennan is a renowned session guitarist and professional music educator. A composer and producer, MacLennan worked as an instructor for the Los Angeles Pierce College Department of Music. With a B.A. in ethnomusicology and jazz guitar studies from University of California, he's played guitar and ukulele for the hit Fox show Raising Hope; appeared on the Disney series The Suite Life of Zach and Cody; and composed, arranged, and produced three full length albums of his own.
About GuitarControl.com
GuitarControl.com is packed with resources, video tutorials and lessons, articles, and affordable DVDs to help new guitarists learn and experienced guitarists master their instruments. Guitarists of any experience level find guitar lessons from instructors with a broad array of music backgrounds and styles - blues, jazz, metal, classical, folk, progressive rock, punk, and everything in between. Guitarists can find relatable, easy-to- follow videos regardless of their ability or musical tastes.