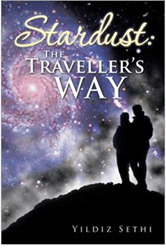 Every soul in the universe is connected," Sethi said. "We are all stardust gaining more wisdom and experience with every new life.
QUEENSLAND, Australia (PRWEB) October 05, 2013
Karma, enlightenment, family constellations and Vedic astrology: these terms are only a handful of the topics broached in Yildiz Sethi's search for a higher meaning.
"Stardust: The Traveller's Way" breaks down numerous spiritual belief systems in order to create a guide to spiritual development. The novel links social movements and current events to spiritual theories such as collective karma. It also introduces readers to a character called Surya who demonstrates the soul's journey through the universe on a path to enlightenment.
While highlighting the importance of familial relationships, Sethi stresses that we are all co-creators. Our actions and intentions have the power to develop a positive energy in the universe and ourselves.
"The journey towards enlightenment is viewed through the fine tuning and freeing of thoughts and emotions," Sethi said. We must be absorbed in the celebration of life."
The book provides multiple avenues for readers to choose their own next phase of personal development. It stresses that every thought or action has consequences and reflects one's inner state. Sethi believes that everyone and everything in the universe is linked. Experience is only gained through life experiences and many different lives.
"Every soul in the universe is connected," Sethi said. "We are all stardust gaining more wisdom and experience with every new life."
"Stardust: The Traveller's Way" By Yildiz Sethi
ISBN: 978-1452509334
Retail price: $12.78
Available at: Amazon.com
About the Author
Yildiz Sethi has always had a natural fascination for culture and religion. A pivotal point in her life connected her to Vedic astrology, which led her into psychotherapy and personal development. She works as a brief therapist in Queensland and runs monthly family constellation workshops in Sydney and Brisbane. Before her path to Vedic astrology, Sethi taught both chemistry and physics. For more information please visit http://stardustthetravellersway.com/