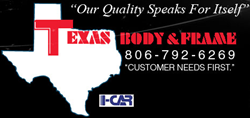 Our body repair shop is able to deal with a huge range of collision and auto body repairs
Lubbock, TX (PRWEB) October 05, 2013
Texas Body & Frame, a specialist in auto body repair and enhancement, now provides its customers with access to rental cars. The service means that those leaving their cars at the auto body shop for work to be carried out can now benefit from having access to an alternative vehicle to tide them over until their own car is ready.
The car rental service is designed to provide convenience, ease, and peace of mind for customers, ensuring minimum disruption for them. Customers who leave their own vehicles for body work repairs and improvements will still be able to go about their daily business by choosing to hire a car through the company, and can then continue to use the car that they rent until their own vehicle is ready to drive again.
The auto body Lubbock based business offers many years of experience, so motorists looking to improve and enhance the body of their vehicles can look forward to excellent service as well as a high level of workmanship and expertise. Collision and auto body repair are amongst the services that are offered by Texas Body & Frame, which also provides its customers with access to computerized free estimates for more accurate information.
An official from Texas Body & Frame said: "Our body repair shop is able to deal with a huge range of collision and auto body repairs. We offer the skills, expertise and experience to do a high quality job every time, so you can get your vehicle looking as good as new. Our rental service means that customers who are leaving their vehicles to be repaired will not have to cope with being without a vehicle. Instead, they can rent another suitable vehicle and use this to get around while their own car is being worked on."
The company also has an extensive gallery of photos detailing the type of work that has been done in the past. This gives customers the ability to see the level of repairs that the auto body shop is able to carry out.
To find out more, please visit http://www.texasbody.com/.
About Texas Body & Frame
Texas Body & Frame is a specialist car body repair company based in Lubbock, and also offers access to car rental services.
Contact information
Texas Body & Frame
5712 Spur 327
Lubbock, TX 79424
USA
Phone number: 806-792-6269