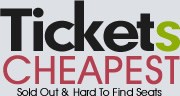 This weekend marks a great time to think about a show with Eagles, George Strait, Elton John and Cher all putting concert tickets on sale for the public to buy.
Los Angeles, CA (PRWEB) October 09, 2013
The Eagles Los Angeles concerts will serve to officially reopen the Los Angeles Forum for its new owners, the Madison Square Garden Company. These three shows in January 2014 look to cap the Eagles Tour 2013 with a special flare as the Forum seeks to reintroduce the venue with a grand splash. These new tour dates supplement 3 Eagles Forum concerts announced a few weeks ago, bringing the total number of Eagles LA Forum shows up to 6.
The Eagles and Madison Square Garden come to this announcement as much more friends than strangers. In November 2013 the Eagles New York concerts at Madison Square Garden include three tour dates that rank as some of the hottest tickets on the resale market.
The George Strait tour dates coming up look to further etch George Strait, already known as the King Of Country, into the record books. Shows for The Cowboy Rides Away Tour began earlier in 2013 and run through a 2014 schedule ending in Arlington, Texas this spring. The George Strait Staples Center concert date in Los Angeles sold out in only 9 minutes, so tickets from the box office may be tough to buy. Last week's George Strait concert dates only took a few hours or less to sell out for shows such as Atlanta, San Diego, Omaha and Phoenix. Luckily, at GeorgeStraitConcertDates.com a large inventory of concert tickets remain available including premium seats and floor tickets. George Strait announced in 2012 that this "Cowboy Rides Away Tour" would stand as his last concert tour. This Friday concert tickets for George Strait shows in Kansas City, Philadelphia, Newark near New York City, Portland, Tacoma, Louisville, Rosemont near Chicago, Tulsa, Las Vegas and Des Moines go on sale for the public to buy.
Elton John Erie tickets for his concert at Erie Insurance Arena go on sale for the public to buy Friday October 11, 2013. For fans who can't wait, some tickets may be bought at EltonJohnTourDates.com now. If seats sell out at the box office, a large inventory will still be available at EltonJohnTourDates.com including premium areas and floor tickets. The Elton John New York City shows at Madison Square Garden, Washington, DC at the Verizon Center, St. Louis, Philadelphia and Lincoln, NE displayed especially strong sales. If the Elton John Erie concert follows suit, the show could sell out fast. With Elton John fans from Buffalo, Cleveland and Pittsburgh all flocking to Erie as Elton's closest show, this might prove to be a ticket one needs to buy fast.
Tickets-Cheapest.com operates in the ticket resale market, similar to sites like Stub Hub, which concert fans may be familiar with, only with cheaper prices than other such sites. Often Tickets-Cheapest.com sells the exact same seats as other resale sites, and in an exact seat price comparison, Tickets-Cheapest.com proved its rights to the name by beating 25 out of 25 competitors for low-priced tickets. Give EaglesTour2013.com and Financial Firebird's Cheap Tickets sites a try for great prices to see great performances. Eagles Los Angeles tickets go on sale for the public to buy on October 12, 2013, but fans can purchase some Eagles tickets early at EaglesTour2013.com and Tickets-Cheapest.com to get their seats reserved in advance.
Check out Tickets-Cheapest.com for all ticket needs when looking for seats to sold out concerts. For the most popular shows they offer a large inventory of seats with costs less than other resellers including concert tickets cheaper than Stubhub. This weekend marks a great time to think about a show with The Eagles, George Strait, Elton John and Cher all putting tour dates on sale for the public to buy.
About Financial Firebird and Cheapest Tickets
The site to buy cheap tickets online, and its sister sites, including the site to purchase a New York Broadway show ticket like Motown Broadway, all geared for the consumers looking for low prices, are affiliated with the Financial Firebird Corporation Travel Group, and stand among the top sites sought by travelers and people who enjoy concerts, pro sports and theater performances. Financial Firebird Corporation, established in 2000 and a proud BBB member, provides unbiased consumer information particularly involving personal unsecured debt or mortgages, software and marketing services. These sites for consumers to buy tickets online operate in the resale market and maintain no relationship with the venues or performers. The resale ticket market allows consumers access to popular events once the box office has sold out or to buy premium seats when the venue no longer offers any inventory. Within the group of these secondary market ticket services, the Financial Firebird owned ticket sites offer lower prices than competitors. Find the site at Tickets-Cheapest.com.