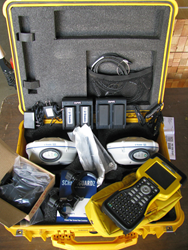 Surveying Equipment Palace is committed to providing reliable and economical solutions for the construction industry and study, local governments, utilities, and private practice.
(PRWEB) October 05, 2013
The Trimble R8 sets the bar for advanced GNSS surveying systems. Trimble R8 integrated system delivers unmatched power, accuracy and performance in a rugged, compact unit. Trimble R-track technology, Supporting a wide range of satellite signals, including GPS L2C and L5 and GLONASS L1/L2 signals, the Trimble R8 contains Trimble R-track with Signal Prediction™ technology which compensates for intermittent RTK signals, enabling extended operation after interruption.
Trimble is committed to the next generation of modernized GNSS configurations by providing Galileo-compatible products available for customers well in advance of Galileo system availability.
The Trimble R8 includes flexible wireless communication options connecting to the controller, receiving RTK/network corrections and connecting to the internet.
1 Trimble R8 Model 2 GNSS Receiver w / Bluetooth + (Internal Radio 450-470 MHz).1 Trimble SPS 855 GNSS receiver Model3 (Internal 450-470MHz radio)
1 radio antenna
1 Trimble TDL450H High Powered Base Radio - Repeater (450-470mhz FCC compliant) complete with cable and antenna kit.
2 Trimble GPS Batteries
1 Trimble GPS Double Bay Charger
1 Bluetooth TSC2 controller running Survey Controller 12.49
1 TSC2 charger
1 Trimble SPS Hard Case
Cables and Accessories
TSC2 Pole Mount Kit
Learn More: The Trimble® R8 GNSS Receiver
For more on The Trimble® R8 GNSS Receiver for GPS GNSS Surveying Systems, visit http://Surveyingequipmentpalace.com.
About Surveying Equipment Palace
http://Surveyingequipmentpalace.com offers the construction industry and the rise of a wide range of products and brands that customer know and trust to provide the highest quality goods and services at the most competitive prices.
Surveying Equipment Palace are not just based on the Internet, but we are proud of the strength we have over 20 years experience and operate through a national network of offices.