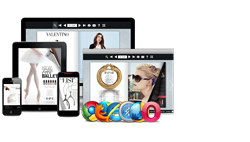 (PRWEB) October 04, 2013
Recently Fliphtml5, a company offering flipbook maker tools, has launched its free html5 page flip software and this is flip HTML5 software is an all in one solution or creating different types of professional flipbooks like brochures, magazines and eBooks.
The software is based on the latest html version and creates extraordinary flash flip books. It has three versions; basic, pro and gold. The basic version is made available at no cost. It has all the basic features which can create beautiful flipbooks based on Jquery and HTML5 from PDF files. However, it does not support any other file format like MS Office or image files; for converting other files, pro or gold versions can be bought.
With this flip HTML5 tool users can create interactive content for dynamic advertising. The realistic page turn effect, pre-designed templates and skins and the feature to embed audio, images and videos make this software a very desirable option for small and medium sized businesses.
The software also allows easy publishing on the web and sharing across various websites. The output files can be made into more than one format. In addition to this, hyperlinks can be added to the media rich flipbooks.
A no-cost version can be downloaded for trial basis while the pro and gold versions are suitable for businesses for creating professional content that enhance business online presence and brand visibility.
A customer writes, "Flip HTML5 solution is more than I expected. For business I need to do a lot of presentations to my customers and am always hoping to find a way to better present than the PDF; this software does it for me, thanks a lot."
Fliphtml5.com is a company offering Jquery based and HTML5 based flipbook maker tools for small and medium sized businesses.