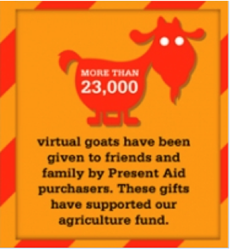 London (PRWEB UK) 6 October 2013
Set up as 'just gifts' in 2004, Present Aid went live in 2005, and has since raised more than £16 million to support Christian Aid's work helping some of the world's poorest communities.
During this time more than 23,000 goats, 1,300 water wells and 7,000 'books, stationery and uniform' kits have been gifted to friends and family by Present Aid purchasers.
Check out Present Aid's birthday infographic, which highlights some major achievements over the years, and view some of the all-time bestselling gifts.
To mark the occasion, we've launched a birthday competition to find the most creative poem or limerick about Present Aid.
Prizes include three special gifts produced locally in the communities that Present Aid supports:

A hand woven scarf provided by Christian Aid partners RAADA (Rehabilitation Association and Agricultural Development for Afghanistan), who are supported by the Monsoon Accessorize Trust
A jar of honey from Christian Aid partner WESM (Wildlife Environmental Society of Malawi), a beekeeping cooperative
A packet of coffee from partner SOPPEXCCA in Nicaragua
Entries can be submitted as text, or entrants can provide a link to share a video, musical or other creative entry. Visit the birthday competition page for details of how to enter and full terms and conditions. The closing date is 15 October 2013.
Notes to Editors:
1. Money raised by the gifts in the Present Aid catalogue is distributed to one of five Christian Aid project funds:
a. Agriculture and livestock
b. Emergency and disaster preparedness
c. Healthcare, including HIV
d. Training and education
e. Water and environment
2. Christian Aid works in some of the world's poorest communities in around 50 countries at any one time. We act where there is great need, regardless of religion, helping people to live a full life, free from poverty. We provide urgent, practical and effective assistance in tackling the root causes of poverty, as well as its effects.
3. Christian Aid has a vision - an end to global poverty - and we believe that vision can become a reality. We believe that the underlying causes of poverty were made by, and can be ended by, human action. Our strategy for building the power of us all to end poverty is embodied in a new report, 'Partnership for Change': http://www.christianaid.org.uk/Images/2012_strategy.pdf.
4. Christian Aid is a member of the ACT Alliance, a global coalition of 125 churches and church-related organisations that work together in humanitarian assistance, advocacy and development. Further details at http://actalliance.org.
5. Follow Christian Aid's newswire on Twitter: http://twitter.com/caid_newswire.
6. For more information about the work of Christian Aid, visit http://www.christianaid.org.