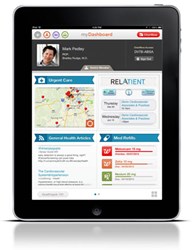 We are seeing a lot of excitement from our physician base about sharing this timely health information through Healthspek.
Brentwood, TN (PRWEB) October 15, 2013
Relatient's Spek provides its client doctors the added capability to communicate with their patients inside Healthspek, an Appy Award winning personal health record. A Spek within Healthspek is a space on the user's dashboard that is like a widget, with functionality and access that benefits the patient. See iTunes Preview of Healthspek.
The Relatient Spek displays all current messages from a patient's doctor on her Healthspek desktop. This allows the patient to see future appointments, health reminders, and instant messages from her doctor.
And the doctor benefits too. This feature helps the doctor satisfy three of the new meaningful use requirements. All messages are completely secure – never being transported over public Internet.
"This new partnership with Healthspek rounds out our communication strategy with secure mobile app capability. We are seeing a lot of excitement from our physician base about this added method of sharing timely health information. Our customer is the doctor, and by making communication with their patients easier and more secure, we see wins for everybody involved," said Rob Bramblett – Business Development Director for Relatient.
"We welcome this latest addition to our rich choice of Speks for our users. This really cements our users with their doctors in a way that is beneficial to everyone. Relatient has the doctors; Healthspek has their patients. What's not to like!" says Bruce LeFew, COO of Healthspek.
Relatient is a Nashville-based patient engagement company that automates the communication necessary to produce compliance in the Appointment, Collections, and Health Maintenance categories. Relatient currently effects more than 10.8 million lives annually with timely messaging and reminder solutions, while enhancing the revenue opportunities for practices, hospitals, and other healthcare organizations nationwide.
Healthspek is a Nashville-based company. Healthspek is a free iPad App that can be used to track, collect and safely disseminate personal healthcare information. Users can securely manage their medical records, immunizations, conditions, providers and insurance, all with a swipe of the finger. For added convenience, mothers, fathers and guardians can include their family members under the same account. Users get 24/7 access to their entire health record from any browser or iPad. And, importantly, so will their selected doctor, emergency room, specialist, or clinic with Internet access. What's more, with the handy Carry Card included, a user's critical health information can be with him or her at all times—even if the iPad is not.