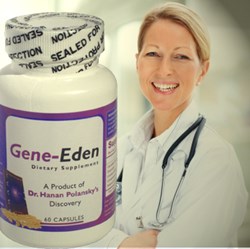 With increasing rates of Herpes Zoster infection, and with only limited vaccine effectiveness, we recommend Gene-Eden-VIR to the elderly. - Mike Evans, polyDNA
Rochester, NY (PRWEB) October 07, 2013
A Herpes Zoster (HZV) infection is more dangerous to the elderly. Older people have a less efficient immune system and thus are at a greater risk of HZV reactivation.
The Herpes Zoster Vaccine (Zostavax), which most doctors recommend, is only somewhat effective (1). As researchers from the University of Ljubljana wrote, "The ability of the elderly to establish an effective immune response to vaccination is much lower compared to the younger population (1)." When describing the Herpes Zoster Vaccine's effectiveness, researchers wrote that it only "somewhat prevents reactivation of herpes zoster and decreases the severity of postherpetic neuralgia (pain after a Herpes Zoster outbreak) (1)."
People are usually infected with the Herpes Zoster virus when they are children, resulting in a case of chicken pox. Afterwards, the virus establishes a life-long latent infection in the nerve centers. Herpes Zoster is a condition that arises when the latent virus reactivates, usually when a person is much older, and the immune system is weaker, according to an article published on July 19, 2013 in The New England Journal of Medicine (NEJM) (2).
Herpes Zoster is a serious health issue for millions of people. As the NEJM article authors wrote, "There are more than 1 million cases of herpes zoster in the United States each year, with an annual rate of 3 to 4 cases per 1000 persons. Studies suggest that the incidence of herpes zoster is increasing (2)."
"With increasing rates of Herpes Zoster infection, and with only limited vaccine effectiveness, we recommend Gene-Eden-VIR to the elderly. They can use it to help the immune system target the latent VZV. It makes sense to target the virus before it has a chance to reactivate and cause pain that could last for months and maybe longer." – Mike Evans, polyDNA
The public, especially those over the age of 65, should be aware of Gene-Eden-VIR, a natural remedy proven in a clinical study to reduce symptoms associated with a viral infection (3). A recent post marketing clinical study published in the peer reviewed, medical journal Pharmacology & Pharmacy, in a special edition on Advances in Antiviral Drugs on August 12, 2013 showed that Gene-Eden-VIR is safe and effective (3).
Each ingredient of Gene-Eden-VIR was chosen through a scientific approach. Scientists scanned thousands of scientific and medical papers published in various medical and scientific journals around the world to identify the safest, most effective natural ingredients that target latent viruses. (3)
To learn more about Gene-Eden-VIR, visit http://www.gene-eden-kill-virus.com All orders of Gene-Eden-VIR are completely confidential, and no information is shared or sold to any third party. Privacy is assured.
Reference:
(1) http://www.ncbi.nlm.nih.gov/pubmed/24089135
(2) http://blogs.nejm.org/now/index.php/herpes-zoster/2013/07/19/
(3) http://www.scirp.org/journal/PaperInformation.aspx?PaperID=36101
polyDNA is a biotechnology company that develops dietary supplements using the unique scientific method developed by Dr. Hanan Polansky, which is based on Computer Intuition.
In addition to his unique scientific method, Dr. Polansky published the highly acclaimed scientific discovery, called Microcompetition with Foreign DNA. The discovery explains how foreign DNA fragments, and specifically, DNA of latent viruses, cause most major diseases.
polyDNA developed Gene-Eden-VIR, an antiviral natural remedy that helps the immune system kill latent viruses.