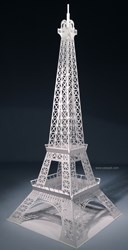 North Clarendon, VT (PRWEB) October 04, 2013
In a follow up to his 2011 book Origami Architecture: Papercraft Models of the World's Most Famous Buildings, author and paper artist Yee has announced the release of the Origami Architecture Kit. This extraordinary origami kit contains twenty sheets of high quality, pre-cut cardstock, allowing readers the fun of assembling masterpieces. A detailed full-color instruction booklet with more than 150 photos guides readers through their paper crafting adventure.
The kit features three of Yee's most popular designs:

Eiffel Tower
The White House
Sydney Opera House
Once completed, the paper models can be displayed as three-dimensional buildings or folded flat for easy storage and transport. Finished projects can be exhibited at home for family and friends or at the workplace to amaze visitors. Origami Architecture Kit releases on October 8 and will be available at select bookstores, Amazon.com or Tuttle Publishing (http://bit.ly/GC3UcY).
About the Author
Yee began paper crafting at a very young age. As a child he was too poor for toys and so paper crafting became his hobby. Since this experience, he has dedicated himself to mastering the art and began to design handcrafted toys made from paper. For the past thirty-five years, he has developed his skills in paper crafting, first as a hobby and now as a career. He sells custom craft work through his website, http://yeesjob.com.