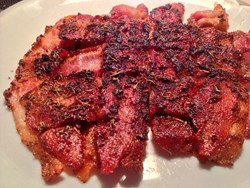 Pirate Jonny's transforms any dish into a delectable experience that helps the consumer enjoy ease and versatility in cooking while also having great flavor!
Clearwater, Florida (PRWEB) October 15, 2013
After having received several awards from the National BBQ Association, Hot Pepper Awards, Kowtown BBQ Competition to name a few, Pirate Jonny's Rubs, Seasonings and Sauces, a "Fresh From Florida" local company, can be visited at the Florida State Fairgrounds this weekend, October 18-20.
The consumer can now put Pirate Jonny's to the test by sampling Smoked Pork with Sweet Island and Caribbean rubs, Jamaican Jerk chicken wings, Sweet Island BBQ wings along with many other flavors to choose from. A new discovery of Pirate Jonny's, which has been available in limited supplies, is their "bacon candy" also made with the Sweet Island and Caribbean rubs. This delicious bacon has been likened to a "jerky" type product, but with much more moisture and flavor because it is not dried. Instead, any individual can simply sprinkle the rubs on the bacon and fry it up!
Pirate Jonny's will make your cooking easy as its blends eliminate the need for a lot of food preparation in cutting up onions, garlic, peppers normally needed to add flavor. The rubs and seasonings are also healthy with no MSG, Gluten or Soy as well as low sodium!
Many dishes can be seen on Pirate Jonny's Facebook page https://www.facebook.com/PirateJonnys to wet your appetite and get you ready for Florida's Largest Home Show http://bighomeshow.com/. You can also view many of Pirate Jonny's recipes on their website where you can find the Bacon Wrapped Jalepeno's among many others http://www.piratejonnys.com/recipes/.