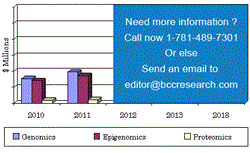 Wellesley, MA (PRWEB) October 07, 2013
According to a new technical market research report, Sample Preparation in Genomics, Proteomics and Epigenomics: Global Markets from BCC Research (http://www.bccresearch.com), the global market for sample preparation reagents and products used in life science research was valued at $4.6 billion in 2012 and is expected to reach $5.4 billion by 2013. BCC Research projects the market to grow to $11.5 billion in 2018, and register a five-year compound annual growth rate (CAGR) of 16.3% from 2013 to 2018.
Every scientific achievement is based on reliable and reproducible experimental design. For many scientists, protocols and technical procedures play a key role in their discoveries. Therefore, sample preparation techniques are the necessary and essential step in many successful studies; requiring in most of the cases a specific approach, reagents, and design. In addition, preparation steps are often the main "bottleneck" or foundation for further downstream analysis and workflow. Reagents companies have started to recognize the commercial potential in providing the required reagents, kits, and assays that help in facilitating scientific work by reducing time, labor, and even costs.
One of the most developed segments in the sample preparation industry is the genomics segment. Genomics studies became particularly popular as a result of the Human Genome Project and since its completion in 2003, many tools and technical procedures have been introduced into the market. The epigenomics sample preparation market could be considered as part of the genomics market, as some of its products fall under the same category, it also provides customized solutions for epigenomic experimental designs. This market is predicted to grow in the next five years due to the rising popularity of epigenomics studies in cancer and stem cell research.
Finally, the proteomics segment is lagging behind the genomics and epigenomics sample preparation segments. Technical challenges make proteomics more problematic for product development due to the complexity of protein research. It also has a different customer base. Nevertheless, BCC Research believes that this market has enormous potential due to biomarker research trends and will exhibit growth in the next couple of years.
This new BCC Research report provides an overview of the current overall state of the sample preparation industry for life science research focusing on the genomics, epigenomics and proteomics segments. It describes existing products on the market, and a detailed analysis of the competitive environments, including new potential markets for novel products and assay development. This study includes information about significant players, trends, and obstacles and other information affecting this market and its different segments.
This comprehensive report from BCC Research highlights the main segments in the sample preparation industry, including genomics, proteomics, and epigenomics. It discusses its major players, current and future trends, and influences. The drivers and challenges in each segment of this industry are also described in detail, along with forecasts for the next five years.
This report is intended for business development professionals, entrepreneurs, and other investors who need to fully understand and evaluate each segment of the market for sample preparation in genomics, proteomics, and epigenomics research. The report provides insights into the market position of major companies and shows new opportunities, which otherwise may have been overlooked by the business community.