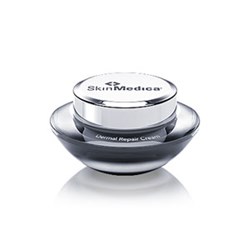 Although the ultra-rich SkinMedica Dermal Repair Cream is targeted for those with mature dry skin needs,
Anaheim, CA (PRWEB) December 18, 2013
DrSkinSpa.com provides top shelf, anti aging products for skin via their e-retailing web site. This skin care product store delivers beauty solutions formulated from naturally derived substances that have been scientifically reviewed and proven to work for a wide variety of skin care needs. They carry a huge inventory of consumers' skin care favorites. The latest addition totheir family of product offerings is SkinMedica Dermal Repair Cream.
SkinMedica Dermal Repair Cream is a rich, hydrating facial cream that contains a high concentration of Vitamin C and Vitamin E for deep antioxidant protection. Other naturally derived protective ingredients in this skinmedica derma repair cream for dry skin add to its deep moisturizing abilities.
The Vitamin C (tetrahexyldecyl ascorbate) contained in SkinMedica Dermal Repair Cream is a lipid-soluble variety of ascorbic acid, also known as Vitamin C. Vitamin C works as a free radical scavenger, an antioxidant that both stops and fixes damage to your skin, such as the damage done to skin cells from UV ray exposure. The Vitamin C in skinmedica dermal repair cream for dry skin will also encourage the growth of skin cells and healthy tissue. This is one of the anti-aging ingredients found in SkinMedica Dermal Repair Cream.
Another ingredient specially formulated in this skinmedica dermal repair product for anti-aging effects is Vitamin E. The Vitamin E in SkinMedica Dermal Repair Cream is in two different forms: tocopheryl acetate and tocopheryl linoleate. The tocopheryl acetate is a powerful antioxidant for taking care of free radical damage. This form of Vitamin E in skinmedica dermal repair is a stabilized ester that hydrates the skin and works to make the dermial layer smooth and silky. The other form of Vitamin E, tocopheryl linoleate, is a fatty acid form of Vitamin E that guards the skin's protective hydration barrier, keeping skin smooth, moist, and soft.
SkinMedica Dermal Repair Cream has also placed hyaluronic acid in its cream for dry skin issues. This is a naturally occurring substance found in the cellular matrix of the skin that depletes with age. It will smooth roughened skin almost immediately. The skinmedica dermal repair product contains algae extract, a marine botanical that balances the skin's moisture content and provides minerals, vitamins and even more antioxidants to dry skin needs.
Desiree Torres, the esthetician at DrSkinSpa.com, says, "Although the ultra-rich SkinMedica Dermal Repair Cream is targeted for those with mature dry skin needs, it is also perfect for normal skin in order to prevent dryness from occurring. This skinmedica dermal repair product can be applied not just to the face, but also on the neck décolleté."
DrSkinSpa.com hasdedicated customers from all over the world. This global e-retail store is highly praised for providing the most desirable anti aging products for that people actively seek. Their products for skin have earned welcome scientifically proven results. DrSkinSpa.com's skin care offerings come with a 14-day, money-returned guarantee in addition to 120% price protection program, free shipping, and complimentary consultations with an on-site Esthetician. DrSkinSpa.com is owned by Crescent Health Center and is based in Anaheim, California.