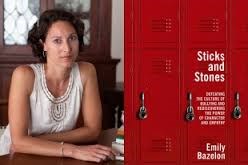 Bullying isn't new. But our attempts to respond to it are, as Bazelon explains in her richly detailed, thought-provoking book. - Washington Post
New York, New York (PRWEB) October 08, 2013
In her highly acclaimed book, "Sticks and Stones," Bazelon explores teen bullying, the rise of the Internet and social media, and the virtues and pitfalls of treating bullying as a crime. "Sticks and Stones" describes what parents and schools can achieve and what may come of the shifting power differential among parents, schools, and social agencies. She will be in conversation with Center RAPP Coordinator Liz Lasky, LCSW, PhD, a veteran social worker stationed on an intermediate school campus to teach students how to have healthy relationships.
Bullying has a high correlation with teen abuse and adult domestic violence. The Center's Teen Relationship Abuse Program - RAPP - helps teens overcome bullying and develop healthy relationships. For seventeen years, the Center has been teaching New York City teens how to build healthy relationships, recognize danger in a relationship, and plan for safety in dangerous situations. RAPP prepares young adults by giving teens tools to grow into a safe and healthy tomorrow.
About the Center Against Domestic Violence:
For more than 35 years, the Center Against Domestic Violence has been working toward a society free from violence by transforming the lives of victims and raising awareness in our communities. The Center offers a range of education, prevetion, and intervention programs.
Event Details:
Friday, October 18th
8-9:30am
The Harvard Club
35 W 44th St., NYC
Tickets $85 - All proceeds support the Center's violence prevention activities.