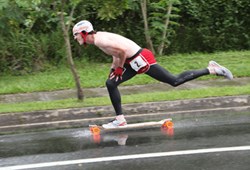 'I'm really happy I'll get to make a few more races before the season ends. It's great to see some events here in the west side of the continent.' - Paul Kent
Pacific Northwest (PRWEB) October 04, 2013
For years, the name Paul Kent has been synonymous with elite long-distance skating and now the International Distance Skateboard Association (IDSA) can confirm the longboarding legend will participate in both stops of the Pacific Northwest Tour. It has been a difficult year for Kent, due to family obligations, injury and unforeseen circumstances. It has prevented him from skating as much as he has wanted this year, but he is all ready to put it behind him and do what he was born to do in the Pacific Northwest at the Push in the Woods and Centennial Push Race. The reigning IDSA Skater of the Year will look to humble his competition by winning both races. Kent has said, "I'm really happy I'll get to make a few more races before the season ends. It's great to see some events here in the west side of the continent."
The Pacific Northwest tour starts off on Sunday, October 6 with the Push In the Woods, 5K and 10K Races on the Banks Vernonia Trail right outside of Portland, Oregon. It's a chance to race against some of the best skaters in the world. Rayne and Daddies Board Shop have co-sponsored the amazing $1500 prize purse, and Robin "The Leg" McGuirk wanted to host the event as he feels strongly about his placement in his first sanctioned hometown race. Thanks to Rayne, Daddies, Bustin, Eastside, Push Culture, Longboard Larry, and Subsonic Skateboards for making the event happen. To Register for this race, visit: http://theidsa.org/portfolio/push-in-the-woods/.
The tour continues on to Arlington, WA right outside the city of Seattle, where thanks to the Snohomish County Tourism Department, a two day event featuring a one mile and a 5K under the lights in Downtown Arlington on October 12 and a Half Marathon on the Centennial Trail on October 13 will feature a $2500 prize purse. Motion Board Shop will be hosting this race and are excited that the event will be annual. To register for this race visit: http://www.motionboardshop.com/pages/push-race
About IDSA
The IDSA's mission is to act as the global governing body to ensure the safety of event competitors by ensuring that route inspection, age grouping and event insurance needs are met; to grow international awareness and participation by demonstrating skateboarding's benefits toward a healthy and positive lifestyle; and to ultimately infuse new energy into skateboarding as a viable and legal mode of transportation. The IDSA can be visited at http://www.theidsa.org.
About DADDIE'S BOARD SHOP
Now, 17 years old, they sold their first skateboard and snowboard on November 10, 1995 out of our 700 square foot shop in Portland, Oregon. They fell in love with longboarding in 1999 and have been selling them ever since to hundreds of thousands of customers all over the world. Today, Daddies is the largest longboard shop in the world. For more information visit http://www.daddiesboardshop.com.
About MOTION BOARD SHOP
Motion Boardshop is the Pacific Northwest's premier longboard skateboard shop! Their shop is located in Seattle, WA, just north of Green Lake, but ship products all over the world! They pride ourselves in great customer service, fast shipping, keepin' it real, and spreading the stoke to longboarders all around the world. We carry loads of longboard brands, so no matter your skill level or skate style, Motion Boardshop can fulfill your longboarding fantasies and desires. For more information, visit http://www.motionboardshop.com.