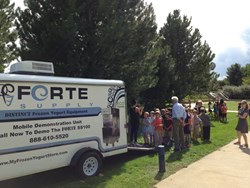 ...the Forte Supply team banded together in order to make Becker's vision a reality.
Boulder, Colorado (PRWEB) October 08, 2013
In order to assist victims of the recent floods in Boulder, Colorado, local frozen yogurt machine and supply retailer, Forte Supply delivered free frozen yogurt to shelters where victims were housed after being displaced from their homes.
By giving their high-quality and tasty frozen yogurt products to volunteers, first-responders, and to those in need, they did their part to help the local community.
The impetus for this act of kindness was spontaneous. According to Jeff Resnick, CEO, the company's Vice-President of Sales came up with the idea, which was rapidly implemented:
"Jeff Becker, our VP of Sales, had the idea over dinner with his father. He mentioned it in the morning and we all jumped on it. We have a trailer we use for demonstrations that is equipped to serve frozen yogurt out of, so we packed it up with frozen yogurt mix, cleaned our SS100 machines, and headed out." Members of the Forte Supply team banded together in order to make Becker's vision a reality. By moving quickly and doing all that they could to support the community during this troubled time, they allowed volunteers and flood victims to enjoy a tasty treat and a much-needed break during the crisis.
While the process of packing up machines and delivering frozen yogurt products was dangerous, due to flooding and related damage, all staff members were able to remain safe as they implemented this not-for-profit flood relief assistance plan. Some employees did experience minor car and road damage, but kept going to fulfill their mission of helping the local community.
While company representatives were certainly aware that more help was required, in addition to frozen yogurt, they were gratified by the warm reception that they received from those that they fed. Also, by getting out and meeting community members who were directly affected by the flooding, and liaising with volunteers, they felt more connected to their own community. Frozen yogurt continued to be handed out until all supplies were depleted.
Photographs of the company's flood relief initiative in action are available via the Forte Supply Facebook page, by clicking here.
About Forte Supply
Recognized as the most trusted independent source of certified soft serve machines and frozen yogurt store equipment/supplies. Forte Supply offers a competitive price point along with helpful and unique information on entering the frozen yogurt store business. With an extensive customer base in multiple countries, valued for its honesty and service, the company equips customers with the insight necessary to make better business decisions. Headquartered in Boulder, Colorado, Forte Supply serves its US and International customers with an experience that is comfortable and professional. For more information, visit: their website or call 888.610.5520
 
Interested parties and/or media representatives may learn more about Forte Supply by visiting the company's official website, fortesupply.com. You may also connect with the company via the social media platform Facebook.