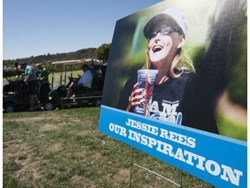 'Jessie wanted us to continue and expand her work of caring for courageous kids with cancer, and we've got an international army of volunteers, nurses, doctors, hospitals, and companies who are doing just that,' said Erik Rees, Jessie's Daddy
Coto de Caza, CA (PRWEB) October 08, 2013
Jessie Rees' revolutionary approach of caring for courageous kids with cancer took a gigantic leap forward this week as the foundation she founded completed a major fundraising and media event that will provide critical resources to the growing organization.
The third annual 'Never Ever Give Up - NEGU Golf Classic' attracted over 300 participants to the all day event at the world famous Coto de Caza Golf and Racquet Club for a day of golf, fundraising, and fun. As detailed in the Orange County Register, the event raised more than $200,000 while involving gold medal winning Olympians, All Star Baseball legends, and NFL players.
"Jessie wanted us to continue and expand her work of caring for courageous kids with cancer, and we've got an international army of volunteers, nurses, doctors, hospitals, and companies who are doing just that," said Erik Rees, Foundation Chairman and Jessie's Daddy. "Events like the NEGU Golf Classic expand our circle of support and allow us to continue to reach more and more kids."
The foundation will use many of the funds to distribute their second annual Holiday JoyJars, which will carry 15-20 holiday theme new, age appropriate, toys within its brightly covered sealed jar for courageous kids with cancer. Jessie started distributing JoyJars herself in 2011 during her fight against inoperable brain cancer. She passed away in January 2012 and the foundation she started now serves 260 children's hospitals in 18 countries and every Ronald McDonald House in America. CNN named Jessie a 'Young Wonder' for her work in December 2012.
The golf classic and gala attracted the support of four time Olympic and gold medalist Kaitlin Sandeno, three time Major League Baseball All Start pitcher Robb Nen (retired), and NFL quarterbacks Trent Edwards and Jordan Palmer.
"Jessie cared for kids that faced the same struggles she faced by bringing joy to their lives and encouraging them to Never Ever Give Up," said Erik. "We are blessed to have supporters like Kaitlin Sandeno, Robb Nen, Trent Edwards, Jordan Palmer and the thousands that have helped us distribute over 70,000 JoyJars. This holiday season we will be able to make sure that thousands of courageous kids and families understand how much people care for them."
To read the Orange County Register article on the http://ow.ly/puOum.
PARTICIPANT BACKGROUND
Jessie Rees Foundation; http://jessie.org
Founded in 2011 by Jessie Rees and her family during her fight with inoperable brain cancer, the Foundation helps kids Never Ever Give Up in their quest for healing from cancer. Distributing Jessie's JoyJars © through 240 children's hospitals, and every Ronald McDonald House in the US, the Foundation has provided 70,000 JoyJars to kids and families through the support of major corporate partners UPS, Life Technologies, Anthem Blue Cross of California, and others. The Foundation has provided 100% of the JoyJars at no cost to the hospital or recipients and is completely funded through private donations.
CONTACT:
Jeff Gibson (949) 851-8511
jgibson(at)race(dot)com