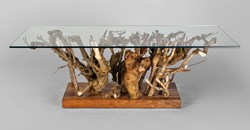 "Hedge I" is the product of skilled hands reflecting upon the English landscape that surrounds them.
London (PRWEB UK) 21 October 2013
When creating a new idea for a table, the furniture designer's task is to create the design in an interesting, relevant, and structurally efficient manner. David Savage, described as a "Grandee of British Furniture Making,"* is an artist craftsman with over 35 years of experience creating extraordinary furniture for truly extraordinary people. His newest extraordinary piece, "Hedge I," reflects the Autumn English countryside; it is original in concept and beautifully executed, measuring 1400 x 700 x 490. It was made by a small team of exceptionally skilled furniture makers, led by David, at Rowden Workshops, near Shebbear in the very rural North Devon.
"Hedge I" is the product of skilled hands reflecting upon the English landscape that surrounds them. The piece looks at the way mankind regulates nature and the natural landscape; trimming and clipping the unmanaged chaos straight and clean. The piece combines tangled natural forms with the hard flatness of the glass surface."Hedge I" is also a reflection upon the tragedy known as "ash dieback," a chronic fungal disease that is attacking and killing Britain's native ash trees and hedgerows. Ash dieback will change the landscape within the coming years, in a profound way, destroying not only trees but the materials that form the boundaries of the fields. The English landscape will never be the same again.
"I love these fields and hedges; my dog and I go walking through them every day" said David Savage, "I know change is happening around us and man has moulded this landscape but I find the idea that this beauty will change so radically in the coming few years distinctly worrying. The "Hedge" table series is not a response to this, but I realised, as we were making the pieces, that in a few years there may not be any ash hedges to look at and enjoy. Of course it is deeply ironic that in making this piece I am contributing, in a small way, to the destruction of the landscape."
"Hedge I" has already been sold to a private collector, but there are still five copies available in a signed edition. These are exclusive workshop pieces and will only be available direct from the Rowden Workshops. For more details on buying a signed edition, click here.
Visit the website at http://tinyurl.com/qxbb6gz
Tel: +44 (0) 1409 281579
Dbsavage(at)finefurnituremaker(dot)com
Rowden Farm Workshops,
Shebbear,
EX21 5RE,
Devon
England
*David Roberts "All that we are" a six page article in issue 272 Good Woodworking October 2013
A digital version of this text and accompanying images can be found at http://tinyurl.com/o2sk8eo