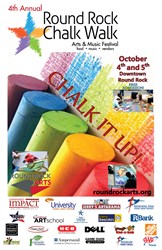 Round Rock, Texas (PRWEB) October 04, 2013
The 4th Annual Round Rock Chalk Walk will be held in downtown Round Rock on October 4 and 5.
Chalk Art - The Chalk Walk is the Round Rock Arts Council's version of an Italian Street painting Festival. Artists create, with chalk pastels, works of art on the concrete. Drawings are created in full view of the public, who are encouraged to interact with the artists as they use their amazing talents to create beautiful "murals" before their audience's eyes.
Friday Night Highlights – New for this year is the Friday night party "Blues, Brews and BBQ" – Featuring delicious barbeque and music by the the Belltower Trio.
The Biscuit Brothers headline Saturday's activities. Chalk artists, local musicians, visual artists, crafters, food vendors, jugglers, trick dogs, mini horses, street performers and separate activity areas for adults and children are key features of this event. Confirmed musical acts include the seventeen piece Monster Big Band, Inside Out Steel Band, Biltmore Blues, Flight 19, Paul Koudouris and One Resistance. The event is free.
Saturday Art Auction - Selected artists, school art programs & teachers, individuals and businesses create a work of art to be auctioned off for art program funding. Each item is judged and has a chance to win cash awards! Bidding starts at 6pm on Saturday at the Plaza main stage.
Who's Going to be at this years Chalk Walk?
Friday 5:30-7:30 Inside Out Steel Band
Enter to win a DELL Notebook Computer and other prizes
at the Kids Chalk Walk Booth or ArtSpace!
Main Stage
FRIDAY
6-8pm Belltower Trio
SATURDAY
11am One Resistance
1pm Biscuit Brothers
2pm Paul K
3pm Flight 19
4pm Inside Out Steel Band
5pm Biltmore Blues
6pm RRA Chalk walk winners announced, Live Auction, Door Prize Winner
Headliner
Youth Stage
10:30-11:30Aubrey Crow
11:30-12:00 Dance Gallery
12:00-12:30 Carson Dickson
12:30- 1:15 Round Rock Ballet Folklorico
1:15p-2:00 Texas Juggling Society
2:00p-3:00 Round Rock Drummers
3:00p-3:30 Austin Glee Club
3:30p-4:00 The Isaac Sisters
4:00p-4:30 Rock Stars
4:30p-5:30 Tiarra Girls
Come cheer on your favorite youth group to help them win the $100 best in show. Also vote for the peoples choice award!
Street Performers
Over 60 Chalk artist–Kids Fun Area with Chalk art, free crafts, games, activities–Race 2U slot car racing—Food, Art, Business, Vendors—Art Demonstrations—Drum Lessons—Pony Rides—Petting Zoo—Animal Adoptions—Street Performers—iPad giveaway—Spin Art—Characters—Face Painting—Glitter Pumpkins—Balloon Animals—Traditional Chinese lion dance– Yarn spinning and knitting-Woodworking- Dancing—Jedi Battles—Reggae and Jazz music! Look for Maps for details Texas Juggling Society, Texas Juggling Society, RASTA EQ, Lone Star Jedi, ATL Sliders, Texas Chapter, Traditional Chinese lion dance by Seven Star Martial Arts LLC, Austin Glee Club, Sheppard Street Performers, Stones Throw, Woot Talley, Chapter 3, Carson Dickson, Flames of Fire, Dirty Folk, And Much more.
Contact: Kris Whitfield at 512-689-2450
roundrockarts.org